Editors Note: every once in a while you run across someone with exceptional knowledge in a certain field. During an email exchange about older kits, I asked Dave if he would mind writing an article about early kits in the US. Dave's knowledge has been an education to me, and I hope that you enjoy it as well. Alan Bussie
By Dave Fischer
Who made the first plastic model kit in the USA? One of these three companies- Varney, Hawk or Empire- was the first. A later company, O-lin, was significant in early production. We will probably never have an accurate view of the pioneer or the earliest history of the plastic model industry in the U.S. because there was no one innovation that could be described as a starting point. Ideas merged and evolved and eventually came to appear as progress.
The plastic model was not a new idea. In 1934 Dick and Phil Mates, founders of the Hawk Model Company, displayed and sold finished (not kits) plastic models at the re-run of the 1933 Chicago Worlds Fair. In the mid to late 1930s and into World War II, FROG in England had made 1/72 plastic kits cast in acetate plastic and usually including some metal parts. At that time in the U.S., plastic casting was expediting the production of many items necessary to fighting the war, including constant-scale aircraft identification models. These models were originally made of wood, each hand-crafted in high school and trade school workshops across the country. These ID models were distributed in great numbers to training and operational bases world-wide. Casting the models in plastic produced larger quantities in less time and with greater uniformity in appearance. Several companies that marketed balsa models before the war were asked to produce ID models in plastic, Hawk Models among them. The Mates brothers quickly adapted casting technology beyond their war production, creating generic propellers for their famous line of solid wood models.
Gordon Varney produced wood and metal model railroad equipment before the war and may have been another business drafted into wartime production. In 1944 Varney produced a wood, cardstock and metal PT boat kit that featured detail parts cast in tenite, an injection molded acetate most often used for tool handles and control knobs of all sorts. At the end of the war, Varney introduced an LST model in the same mixed materials.
First issue Varney mixed-media LST kit @ 1944
Contents of Varney LST Kit
In 1946 Varney followed these with a U.S. Fleet Submarine and Stearman PT-17 trainer both made entirely of tenite. Since tenite can be used to create very thick, solid parts, the hull of the sub and fuselage of the PT-17 were single solid pieces of plastic. The exact dates and order of issue of the Varney kits is not certain, but a PT Boat kit with a black-and-white photo on the cover was dated 1944, and color litho covers of all three ships appeared in 1946. The style of the PT-17 cover is most like the early PT Boat box, but most experts place it in 1946 as well.
Varney first issue Fleet Sub – all plastic kit @ 1946
Interior of Varney Fleet Sub
Varney PT-17 Box @1946
Varney PT Boat second issue multi-media kit @1946
It is around that time that the Mates brothers at Hawk put their wartime production experience to the test and produced their own all-plastic kit, the Curtiss R3C-1racer. Like the wartime ID models, it was cast in black acetate, and the simple box and instruction sheet were printed in dark green ink. The instruction sheet of this first issue was dated 1946. This kit was quickly replaced by a yellow plastic R3C-1 in a slightly more dynamically illustrated two-color box. It was just red and blue, but it was still more colorful than the dull green. The kit was offered to hobby shops, but the response was poor. In 1947 Hawk approached toy stores and obtained a much better sales response.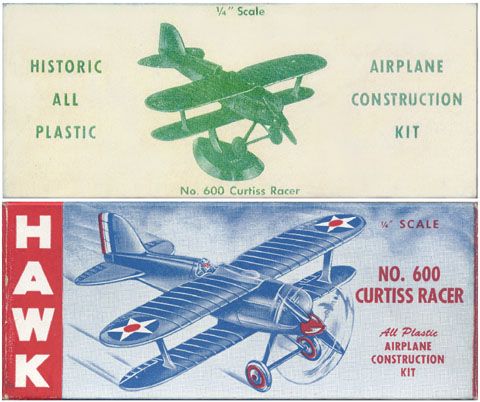 Hawk first and second issues of the Curtiss Racer @1946
Both Varney and Hawk were based in Chicago, but at the same time in New York another early kit was issued. In 1946 a plastic molding company called Empire produced a Stinson Voyager kit in 1/48. This makes Empire yet the third candidate for the first plastic model manufacture in the U.S. The origins of the kit and the company are a bit mysterious, but two of Empire's crew would leave to establish their own molding company in Brooklyn, Aurora Plastics. More about the Stinson later…(recent research by toy historians seems to support that the Empire kit was not issued this early and should be discounted from this list – 1/10/14 – AB)
All of these models were introduced in hobby shops around the same time and the reception was not promising. Flying model enthusiasts didn't need something that didn't fly, solid model craftsmen sneered at the lack of challenge to create a presentable model, and kids… well, kids were not very welcome in the hobby shops of the time. Plastic kits were kept on the high shelves due to higher prices and a lack of interest.
Like Varney and Hawk, Paul Lindberg established a name for himself before the war, in his case as a designer of balsa flying models. It was probably in 1947 that Lindberg teamed with a man (or company) named Olsen to create plastic models under their combined names, O-in. Olsen was very likely the mold maker or financial backer for Lindberg's designs, though the exact nature of their partnership is not clear. The first O-lin airplane model was one not many people know about, a P-80B that would live decades into the future as Lindberg's F-80C.
O-lin Products P-80B Kit @1947
The P-80 was packed in a very plain cardstock sleeve-type box with flaps at the ends- like most balsa kits of the time- with only green lettering to hint at what was inside. The parts were not molded in acetate, but in less-common polystyrene, which would later become the industry standard. Despite the hollow fuselage, the tailpipe and intakes were blanked over like a solid wood kit with black decals provided to make them look open, and the canopy, though a separate part, was cast in the same light gray plastic as the rest of the model. Unfortunately, the O-lin kit was met the same lack of marketing interest and subsequent poor sales.
Undaunted, Hawk and O-lin continued to produce plastic kits, looking for the right connection to the buying public. Spurred on by toy store sales in 1947, Hawk added four classic racers in 1948, all molded in acetate – the Gee Bee, Howard Ike, Laird Solution and the Supermarine S6B.  Hawk made the switch to polystyrene in 1949 for the F-84 and Lockheed Constellation. These six kits were still packed in the sleeve (one-piece) boxes. Always on the cutting edge, the Mates brothers could see that plastic models were the future and in 1951 they discontinued all wooden kit construction.
Hawk first issue S-6B @ December 1949
Hawk first issue Lockheed Constellation @ December 1949
In about 1948/49 O-lin added the Piper Cub, Republic Seabee and six small racers at the same time, also buying the mold for the Empire Stinson and placing it in the line as well. Which brings up a point…the Stinson is such a natural fit for the O-lin line. It is almost identical in design, scale and layout. Is it possible that Paul Lindberg or Mr. Olsen were contracted by Empire to design the kit and/or create the molds?
O-lin original issue Seabee @1948
Olin F-80C (Ex-P-80B) @1948/49
The poor sales caused Gordon Varney to concentrate on HO railroad models and he sold his ship and airplane molds to O-lin, who modified the kits. The PT Boat and LST had their wooden hulls replaced with vacuum-formed plastic. Oddly, the wooden hulls were not used as the masters-they don't fit the vac-form hulls. The tenite detail parts were now cast in polystyrene and the metal and cardstock parts remained the same. The Fleet Sub and PT-17 molds were revised so the solid hull and fuselage could be cast in halves, probably because polystyrene does not mold well if it is too thick. Whatever the reason, the PT-17 gained cockpit detail and eventually a motorized propeller from the conversion.
O-lin's reworked issue of the Varney LST @ 1948/49
Varney, O-lin, and Hawk had laid the groundwork for one greatest hobby revolutions ever, but marketing eluded them. This problem was solved by Sol & Lou Kramer and Lew Glaser. Lew was founder of Revell (Precision Specialties at the time) and the Kramer Brothers were hobby distributors. Sol and Lou had been involved in the hobby business since the 1930s, selling kits of stick and tissue aircraft and later working for Burd Model Airplane Company. They had an eye for 'the next big thing' and it was in February of 1951 at the New York Toy Fair that Sol spotted Precision Specialties 1/32 scale acetate automobile kits or "Highway Pioneers". In the summer of 1951, Highway Pioneers were picked up by Woolworths Department Store. Once plastic models were introduced in department and variety stores rather than just being sold (or not sold) in hobby shops, the whole outlook changed. Parents and kids found an interesting and user-friendly skill-builder. 5&10, grocery, hardware, camera and dozens of other stores quickly cleared space for "hobby corners" where models, paint-by-numbers and craft kits became hot sellers almost overnight. The hobby shops finally woke up and the boom was on. A survey in Boy's Life Magazine in the '50s found that over 80% of the boys responding listed plastic model building as their hobby.
Revell 1913 Mercedes – one of the Highway Pioneers the revolutionized the hobby industry
Wooden kit manufacturers like Monogram and Strombecker had been adding plastic parts to their wood kits since World War II ended, and would soon market all-plastic kits of their own. In 1952 Lew Glaser, impressed with the sales of Highway Pioneers, decided to change the company name to Revell and create an entire line of injection molded kits. Sol Kramer became his trusted advisor. 1953 saw release of Revell's first in-house model kit, the USS Missouri.  Aurora began production at this time also -the 'Big Three' were ready to jump into the growing rush for plastic dominance.
Gordon Varney was the speaker at a hobby trade convention in 1953. He said that anyone who did not jump aboard the hobby bandwagon would be left in the dust. Looks like he got it right again!