By Alan Bussie Google+ profile
I would like to thank John Burns and numerous KCCers. Without them, it would have been impossible to compile this information.
In the early 1940s, Lou Glaser, a California entrepreneur, founded an injection molding company. Precision Specialties performed contract work for other manufacturers. In the early 1950s Gowland and Gowland designed the famous 1/32 scale "Highway Pioneers" line of 30 cars, which were the first mass-produced plastic automotive kits. Glaser marketed these for 69 cents through Woolworth Dime Stores and they sold well. Glaser realized that Revell should sell children's toys, specifically plastic model kits.
The first Revell-made mold was the 1953 USS Missouri, first issued in the narrow box.
The first three aircraft kits followed quickly in one-piece boxes. The F-94C, F7U-1 and F9F-6 were molded without landing gear and with minimal panel lines and rivet details. Decals were included and the stands were simple, small and molded in the color of the aircraft. Box art was simple with limited colors. Kit numbers began with a "H" followed by the kit number and a price extension.
These three kits were also released in a early and rare Gift Set "Three American Fighters" showing all three on cover. The kits are sealed inside in clear cello and have the same limited surface detail and unique stands.
Revell quickly released more kits and went to a two-piece cardboard box with a lithographed "slick" on the top. These first kits are called "Pre-S" and were made through 1955. They were called "Pre S" as it was before Revell advertised the use of "S" Type Cement on the boxes. The first three aircraft kits had the molds modified to show increased rivet detail and were given landing gear. More kits were released as plastic models caught on, including the B-36, B-29, B-24, B-47, F-84 , DC-7, D-558-2, S-55, SS United States, USS Sullivans, USS Los Angeles and more. All aircraft were given the famous "Globe Base" for desktop display. The first base had a one-piece arm and a metal retainer. This base broke easily, so shortly afterwards it was redesigned so the arm became two-piece with a metal retaining ring.
In 1955 the "S" logo was introduced. These kits have a yellow "S" in a red oval on the box ends to advertise the use of "Revell S Cement". This lasted till 1959 and is considered the "Golden Age" of Revell Box art and collecting. Original artwork paintings from this time are highly prized by collectors. Numerous molds were introduced, with the first "S" kit being the DC-7 Airport Scene.
The final "S" kit is thought to be the A3J Vigilante from 1959, although a few issues retained the "S" on the side panel as late as 1961.
The "S" kits comprised perhaps the most extensive line of models available. Airplanes, pleasure boats, cars, trucks, tanks, guns, military ships, ocean liners, animals and more filled the catalogs. All production was in two-piece hard boxes and the "H" code with price extensions continued. Some rare and noteworthy kits released in the "S" Series include the Allison Turbo Prop Engine (motorized and not) and the Chrysler Slant 6 Motorized ¼ Scale kit.
The Revell "Pre S" and "S" Aircraft may have been simplistic, but the "S" model ships hold their own against today's better offerings, which makes them highly desirable today. The extensive line of sailing, civil and military offerings had a high degree of surface detail and many fine, tiny parts. Some of the more famous include USS Eagle, Flying Cloud, USS Olympia and the Oceanliner SS Brazil.
No discussion about the Revell "S" era would be complete without the remarkable space kits issued up until 1959. Revell spared no expense and had top aerospace designers create "near-future" space and up-to-date missile kits. Ellwyn E. Angle designed two of the most famous, the Space Station and XSL-01. The Moon Ship, Krafft Ehricke's Convair Space Shuttle and Helios, X-17, Corporal with Launcher and many more rounded out this series.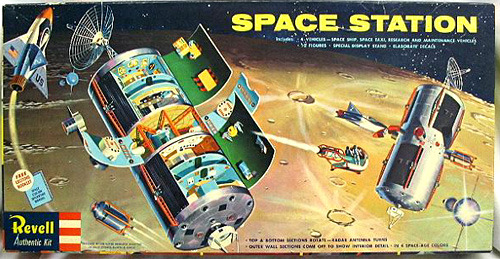 This is the time that the famous Gift Sets were released. Several of these had television program or movie affiliation such as "Strategic Air Command", "Air Power", "Let's Take A Trip", "Victory at Sea" and "Navy Log Guided Missile Fleet". Other gift sets include "Admiral's Fleet", "US Navel Academy", "Merchant Fleet", "Dawn Patrol", "Supersonic Marines", "Sky Squadron", "Century Series" and others. The ones listed are two-piece hard-boxes; other exist with sleeves such as "Jet Airliners".
Revell understood the art of marketing. Cutting a steel mold for a model is time consuming and very expensive. It is easily the single greatest production expense. To get the most life from a mold, Revell chose to create series names displayed around new box art. This way products remained fresh visually to the consumer without increased tooling costs. This does not mean the Revell did not constantly introduce new molds; they did. They simply desired to extend the useful mold life. Revell also issued many kits not as included of a series. Unlike Aurora and Monogram, Revell was only marginally profitable regardless of the fact that they were the largest US model producers.
The end of the "S" series saw the end of the "Globe" clear stand. Many kits did not come with any stand at all. The new marketing series were introduced in 1960 with the bagged "Air Cadet". This was quickly followed by "Picture Plane" Series. In 1961, three series were launched, again with the old molds: "Famous Artist", "Famous Aircraft" and "Airpower". Famous Artist series featured artwork from renowned painters. "Famous Aircraft" was the same artwork with the artist's names removed. Many if not all of these kits contained a collector's stamp of the kit purchased and two larger trading stamps of the same or other kits.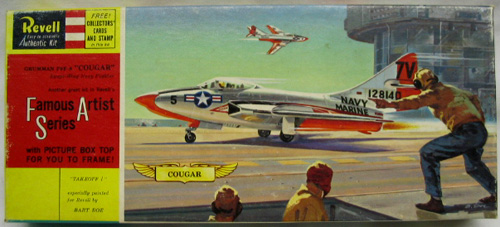 The "Air Power" series retained some box art and changed others. The "Whip Fly" kits appeared at this time. Kits came with a hole in the wing and a nose weight to adjust the CG. The airplane could be "flown", similar to a control line model with no engine. 1962 saw the "Academy" series, followed by the "Jet Command" and "Warbirds" in 1964. "Pacific Raiders" came in 1965 for the B-24J, B-25 and B-29. In 1967 the "Three In Ones" debut, with each 1/72 kit containing three aircraft. In 1967 "Jet Commando" and "Air Commando" were launched, followed by "Strategic Air Power" and "Jet Horizon" in 1969. Series in the 1970s include "Fighting Deuces", "Mini (1/144)", "Show-Off Model" (U-boat U-47, 747 and L-1011 w/interiors), "Collectors Choice (3 decal options)", "WW2 Battle Scenes", and "Air Show Scenes". In the late 1970s Revell slowly began discontinued the "H" prefix and went to four digit kit numbers and no price extensions.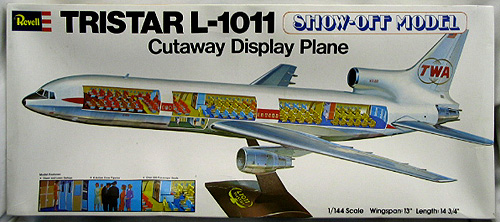 In the 1980s and 90s Revell released the "WWI Aces", "Squadron 144", the famous "History Makers" I and II which was a welcome re-release of many rare Renwal molds such as the Visible Aircraft Engine, Mace Missile and Nike Ajax SAM. These were followed by "Smithsonian Museum Collection", "Premium Import", "Chuck Yeager Super Fighters", "Micro Fighters", "The Hunt for Red October", "Flight of the Intruder" and "Selected Subjects Program" original box art series.
In 1986 Odyssey Partners purchased Revell. Monogram was purchased by Odyssey at the same time and mold swapping occurred. Monogram and Revell were still marketed under their respective names, but all production for both companies was done at Monogram's Morton Grove, IL plant. Hallmark cards purchased both plastic kit lines in 1994. In 1991 Odyssey purchased the Matchbox tooling from Lesney and ex-Matchbox kits were released under both the Revell and Monogram names. The Matchbox name was not used. In 1996 Maquire and Partners bought the Revell and Monogram lines and within a year combined the names to make Revell/Monogram. This naming continued till 1999 when they were again divided. Alpha International purchased the entire line in 2001 and continues to produce the kits under two names. It is expected that mold swapping will continue.