By Alan Bussie Google+ profile
Few realize that changes near the end of 1930 in model railroading would preview the creation of the modern hobby industry in the 1950s.  It may seem obvious now, but it was impossible to predict in 1938.  My thanks goes to the editors and contributors of early Model Railroading and other early train modeling magazines.  This article could not be written without their historical records.
Late 1940s assembled wood/metal HO craftsman kit
In the 1950s, "Consumerism" revolutionized the United States economy and social life. Two main items pushed the consumerist movement: discretionary income and free time. There had always been leisure time, but the activities that filled it varied. In the 1800s families might play instruments and sing after dinner. In the 1930s, they could gather around the radio for the latest drama series or news. But the changes in consumer buying power would revolutionize the USA in the mid 20th century.
In the 1930s "model building" as a hobby did not even make the top 10 list of boy's activities. Hobbies were nothing new to America in the 1940s, but they were not mainstream. As early as the turn of the century, many dedicated modelers built flying or static airplanes, ship, train, automotive or other subjects. Basic kits existed, but the majority of these models were built from scratch, which demanded a high talent level developed from years of experience. That changed in the early 1950s. The phenomenon of the Revell/Gowland & Gowland 'Highway Pioneers' car kits was a significant mover in proving that model building as a hobby could have mass appeal, provided that the kits were easy enough to build and finish. They could be built in an hour after dinner and looked like the real car. The "Highway Pioneers" series helped lead to the production of other subjects in plastic. The effect was revolutionary. By the early 1960s, "model building" was the # 1 past time of American boys.
In model railroading, this revolution took place much earlier. By the mid 1930s, the ingredients were in place to move this hobby to the foreground. The future railroad kit pioneers found much of this technology in the better model ships, which were possibly the first 'prefabricated' mass-produced models.  Other methods were borrowed from modern printing and advertising methods.  Model railroading did not need injection molding; it just needed inexpensive mass production techniques for stamping, casting and printing as well as an advertising and distribution network.  In reality, it was a foreshadowing of the transformation of the entire model industry and a microcosm of the consumerism that would follow.
Assembled Athearn all-metal Automotive Box Car
Model railroading has been around as long as the huge, hissing steel monsters impressed man. If you were a model railroader in the early part of the 20th century, you had two choices: purchase 'tin plate' trains from makers such as Ives and Lionel (just to name a few) or make you own. The more serious chose the latter. Every type of material and scratch building skill was used. Coffee cans turned into boiler and cabs, stock steel became tracks, and in what is certainly primitive kit-bashing, 'tin plate' parts were used as a basis or details. Since all rails and ties were laid by hand, there were few standard scales. Jim's trains would not run on Bill's tracks, and Joe's would not run on either of theirs. The workmanship and detail was incredible, but the appeal to the general public was small.
Around 1935, some pioneers started making and marketing railroad kits. Since the real trains were made from metal and wood, the kits were also. Injection molding, the basis of the modeling hobby today, simply was not required. Small details were cast metal or punched from sheet steel. At first, they duplicated the tin plate scales as this was the closest thing to a 'standard'. These kits could build into impressive and realistic scale models, but the initial market reception was cool. No serious scratch builder would want to buy a kit! The fact that it would not run on his layout was yet another issue. But people without the time or talent for scratch building saw the kits and began to build them. A slow but steady growth curve was established for kit sales and the manufacturers noticed.
Early Laconia HO Passenger Car Kit of wood and cardstock
After World War II, factories turn their output back to the expected demand in consumer goods. Kit production, which occurred during wartime with non-strategic resources (wood, cardboard, etc) resumed but with better materials. Manufacturers attempted to standardize scales with O, OO, TT, HO, and S being the most visible. The post-war kits had several improvements over the ones from the 1930s. Borrowing from the tin plate manufacturers, they lithographed the metal sides with correct colors and decoration. This almost eliminated painting, and a similar process was used for wooden sides. The wooden sides were pre-grooved, windows were cut, celestory roofs pre-carved, and numerous detail parts were added such as window frames, brake and vents. Some details appeared in low-cost but attractive plastic. The American middle class, long tired of war, returned to normal jobs and their lives. Model railroading was now available to anyone and the hobby grew dramatically. During many years it was impossible to fill demand for the most popular kits.
Red Ball – Dale Newton HO Decorated Box Car Kit in wood and cardstock
Assembled Ambroid HO Reefer kit made of wood with metal details
By the late 1940s the proliferation of scales was confusing. However, the growth in one scale stood out- HO or 1/87 scale. For most builders, it was an excellent combination of size and detail for a basement layout. As a sign of the times, respected O Gauge manufacturer Varney sold off all O tooling to General Models Corporation and announced that they would concentrate exclusively on HO scale items. By 1947, model railroading was at a crossroads as evidenced by the editorial page in the September issue of Model Railroader. The article entitled "Freelancing – A Lost Art?" by John Page is an excellent commentary on the changes in the hobby at that point. John discusses the difference between the old days of scratch-building when '…you climbed the attic stairs, or descended into the cellar, and there before you lay a pike that bore the priceless tamp of individuality. It had engines such as you'd never seen before. Unusual but nonetheless appropriate cars and structure were also in evidence…How the picture has changed in the last 10 years! All too often now we visit a fellow model rail or club and find nothing more than the same trite collection of manufacturers locomotives that we have seen on a dozen other layouts. Cars and structures are similar, too. The same old stuff, built a little better or worse, perhaps, than other you've seen. What makes the situation even more incongruous is that it is occurring in a hobby that rightfully takes pride in it initiative, resourcefulness and imagination." Other letters to the editor are much bleaker in '47; one writer is so disappointed in how the hobby had changed in the last 12 years that he was dropping out of NMRA and felt that the scratchbuilt railroad hobby as he knew it was dead.
It was in this environment that the HO classic kits of the late 1940s were designed and made by dozens (if not hundreds) of manufacturers across the country. Tens of thousands of people who never dreamed of building a model railroad became enthusiasts overnight. Manufacturers proudly reported "…over 40,000 of this locomotive sold!" in their add space. Paints were marketed by Floquil, Testors, 401M, A-C and others in all the roads specials colors. Some manufacturers even painted the models with these brands so you could have a perfect match. It was not unusual for manufacturers to introduce a product and not be able to meet demand; store stock was hand-to-mouth. Model railroading had gone mainstream.
Assembled wooden Ambroid HO ACL Ventilated Box Car with metal details
Not all kits were of the same quality, but the existing railroad hobby had high standards. As a result, many kits had an incredible level of detail. It was the opposite of plastic aircraft models. The first planes were simple affairs with few parts, poor or overdone details, or all details simply left out. The train kits started off detailed and complicated; only in the late 1950s did they become simpler with the advent of injection molded ready-to-run cars which spelled the end of train kits. The details and realism of the first and second generation kits is so impressive that they are now known as 'craftsman' kits. I believe that no other kits built 'out-of-the-box' are as realistic or rewarding. The legacy of the 'craftsman kit' is so strong that specialty manufacturers still release all-wooden kits in the spirit of the late 1940s models.
Ambroid ACL Detail
The subjects of the old HO scale kits were exhaustive. They covered boxcars, reefers, livestock, dynamometer, work, circus, vinegar, tank and hopper cars, snowplows, engines and passenger equipment from the first days of the iron horse to the streamliners. The materials varied as well. MDC, or Model Die Casting kits consisted of sides, roofs, floor and accessories cast in heavy pot metal. The sides were pre-painted and decorated with the line name.
Ambroid kits were made from hardwoods that were scribed, precut and/or precarved. Silver Streak models had wooden bodies that were prepainted and decorated, metal sub-structures, brass and metal accessories (ladders, lights, window frames, railings, marker lights, etc) and real metal sprung trucks. Varney engine kits featured all metal construction, while the Varney tender kits were all brass or cast. The boxcars and reefers were lithographed metal with wooden floors and metal/plastic details. JC Silversides made an extensive line of heavyweight passenger equipment from all lines. The sides were stamped steel with precarved roofs and floors. Details were cast metal and wood. The most famous passenger car kits were from Blue Line and American Beauty. Blue Line kits features stamped metal car sides, roof and floor with metal/wood accessories. Everything was completely pre-painted. American Beauty kits had heavy metal stamped sides that were colorfully decorated, precarved roof, floor (both painted), and ends. Details were metal, plastic or wood. Kasiner streamliner passenger equipment was cast in aluminum or magnesium with a one-piece body. Walthers sold basic kits similar to JC Sliversides, but then sold metal and wood "Exterior Super Detail Kits" and "Interior Super Detail Kits". When combined, the model builder could produce award-winning work. The interior kit of the "Executive Car", for example, contains all walls, doors, sinks, beds, couches, chairs, desks, toilets, wall pictures, and much more. In the President's Office, there is a shower…with the secretary caught bathing inside!
Although it signaled the end of model railroading as a purely scratchbuilding hobby, the HO scale kits produced between 1935 and 1955 offer an incredible variety and amazing level of detail for today's model builder. It is important to remember the audience that these kits were originally designed for – a certain amount of modeling experience and patience is required. But the modeling experience is unique and you will have a realistic miniature that you will be proud of.
Alan Bussie
Here are examples of some kits and the contents:
LaBelle wooden Passenger Coach Kit
Varney Metal HO Maine Potatoes Reefer Kit
Globe HO Brass Canadian National Box Car Kit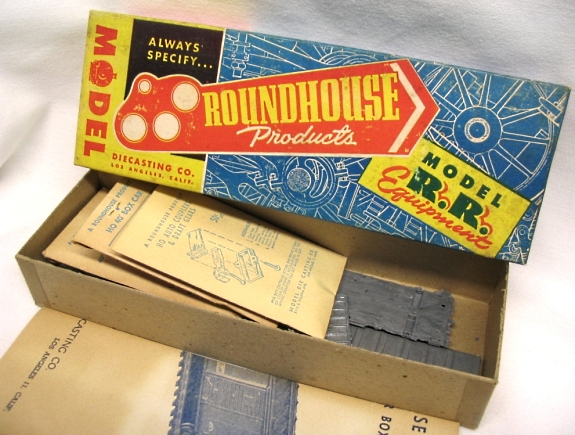 MDC (Model Die Casting) Roundhouse metal box car
Crestline metal and wood Combine
JC Silversides metal and wood Pennsylvania Coach
American Beauty metal and wood Pennsylvania Diner
Kasiner metal Streamline Observation Car
Blue Line all-metal Pennsylvania Baggage Car
Binkely metal and wood 1800s Parlor Car
Ambroid wooden Ventilated Box Car under construction
LaBelle all-wood Day Coach under construction
LaBelle Day Coach detail
Assembled American Beauty UP Coach
This is an excellent article on how to build, paint and decal craftsman railroad kits:  https://rrmodelcraftsman.com/extraboard/cm_howto_stripwood.php
Here is list of some of the HO scale kit manufacturers from the 1940 era. There are many more – even local hobby shops marketed their own kits, and well-known professional builders would custom assemble kits for anyone.
Blue Line, Varney, Walthers, Mantua, American Beauty, A-C, Sampson, Silver Streak, Red Ball (Dale Newton), Athearn, Kasiner, Ambroid, Roundhouse, MDC (Model Die Casting), Scale-Craft, LaBelle, Dyna-Model Products (accessories), Ideal, Megow, Authenticast (accessories, cranes, trackside), Lehigh Models, Champion, JC Silversides, Super Scale Models, Champion, Globe, Manor, Scale Railroad Products, Penn Line, Laconia, Central Valley, Ulrich, Tru-Scale, Strombecker, Rail Chief, Skyline (trackside), Exacta (passenger), Middletown Model Car Shops