By Alan Bussie Google+ profile
In the USA, Revell, Monogram and Aurora are synonymous with early modeling. However, the name Marusan is equally well known in Japan as the pioneer plastic kit manufacturer. The history of Marusan is not well known outside Japan. I am indebted to John Burns, numerous KCCers and Marusan for this information – without them, this article would not have been possible.
Early History
Marusan's roots are deep in Japanese toy history. In 1923, Naokichi Ishida founded Ishida Manufacturing. The factory was located in the Asakusa area of Tokyo, which was well known for toy production. Ishida produced toy binoculars and telescopes for the domestic market. Business was good until the late 1930s when raw materials shortages and World War II brought non-necessary production to a halt. Immediately after WWII, toy production was encouraged as a way to economic growth. Metal stamping equipment was plentiful, and the flow of metals resumed as the country rebuilt.
The difficulties of post war production quickly became evident. In many large manufacturing cities, transportation beyond walking or bicycling did not exist and most large factories were heavily damaged or destroyed. Food and materials were difficult to come by and the black market flourished. It was difficult to assemble a team of workers at a factory, and it proved more difficult to keep them supplied logistically. As a result, many companies did not even assemble or finish their goods. Stamping and wood cutting would be done centrally, and painting and assembly would be sub-contracted out. Not surprisingly, this subcontracting was primarily done in residential homes. The factory would deliver the raw materials to the home, and the working members of the family would paint and assemble toys. The completed toys would be picked up and returned to the factory for boxing and distribution. It was in this challenging environment that Naokichi's sons, Haruyasu and Minoru Ishida, with their business partner Yasuo Arai, founded Marusan in 1947. The brothers had been raised around toy manufacturing and understood the business. Initially they produced what they knew best, optical toys, and sold them wholesale only. They quickly branched out into other tin toys as well. Marusan marketed their good through several names and logos through the years, but the initial logo was based on the name itself- "Maru" means circle, and "San" means three, which refers to the three original founders in 1947.
The early success of the company lead to the formal incorporation as Marusan Shoten Ltd in 1950. The corporate officers were the original three founders – Haruyasu Ishida was President, Yasuo Arai was a Director and Minoru Ishida was the Managing Director.
Early Marusan Shoten Factory circa 1950
Retail Sales
By the very late 1940s/very early 1950s, Marusan began marketing some of its own products directly to the market. Although there may have been retail sales earlier, a 1951 sales list has survived. It lists a extensive line of toys including a friction car and wind-ups such as tricycles, dolls, motorcycles, figures, jets, birds and animals. Almost all toys had creative 'action' features to them, a factor which would come into play later in plastic model kit design.
The Consumer Culture Boom
In the early 1950 there was a greatly increased demand for Japanese toy exports. This was brought on by the timely combination of disposable income and leisure time in the western nations, which created the first modern consumer culture. This culture created very large markets for all sorts of leisure items which included crafts, toys and models. Japanese toy producers quickly saw the need to produce toys specific for the American and other western markets. Until 1952 the US Army of Occupation in Japan had been exposing the Japanese to the latest western consumer goods through publications such as LIFE and other magazines. The Japanese were already experts at toy car manufacturing in the 1930s, and they admired the huge, stylish Detroit automobiles in the color adds- so it is no surprise that they chose to produce toys of these cars. The phenomenon of popular tinplate (tin lithograph) toy automobiles was born and the timing could not be better.
In 1953 Marusan introduced the 1951 Cadillac model. It was very detailed and intricate, consisting of 73 parts that were painted and plated. More than a toy, it was an excellent scale model of this classic automobile. The model was a huge success in the American market.
Marusan issued the model in four colors and even made a version with working lights, another with an electric motor (instead of friction) and another with cable 'remote control'. The famous Matsuzou Kosuge was key to the development of the Cadillac. Kosuge's work in toy design and mold making dated back to the 1930s when he made cars for KS. Kosuge, working as a sub-contractor, designed and produced the molds for the Cadillac. He created other Marusan and CK cars as well. His factory was also subcontracted for production and Kosuge's mark can be seen on some early Marusan boxes and on the base of some cars.
Electric Marusan 1951 Cadillac
Numerous Japanese companies such as Bandai, Alps and Ichiko (just to name a few) produced thousands of cars that retailed from around 1 to 2 dollars US. These cars were made of very colorful lithographed tin and had interior and underside detail. Many had rubber tires, and later models had working lights, windows that went up and down, opening doors, hoods and tail gates, removable roofs and friction or electric motors. They were a tremendous sales success – arriving just as the American fascination with the automobile was zooming to an all-time high. These early toys are very much the grandfathers of the recent die-cast car craze.
Marusan's tin cars are unique due to the true scale appearance. This adds immeasurably to their collector value today. This was not true of all Japanese tin cars- some looked like three Detroit model years combined. But the Japanese toymakers did not only make cars. Almost anything transportation related – aircraft, ships, submarines, buses and more – was produced by Marusan, Bandai and others. In 1954 Marusan had a very large line of toys including a very successful toy SSN Nautilus submarine. In 1955 the line expanded to include large ride-on toys such as trucks and other heavy equipment.
Plastic Model Kits
Marusan's executives had seen some of the imported plastic models and knew that they represented the fastest growing boy's hobby in the USA. In 1958, Marusan designed and produced the first Japanese injection molded kit, the nuclear submarine Nautilus. Sales of the tin litho version may have prompted them to choose this as the first subject for plastic. Marusan already knew the value of colorful box art, so from the beginning their kits sported dynamic, full color graphics.

The success of the injection Nautilus prompted Marusan to launch an aggressive program to create a line of plastic kits. At first the scales were odd or 'box scale' – as the American manufacturers were. Accuracy was lacking, as with most early plastic kits. This is easily explained as most manufacturers – Aurora, Revell and Marusan – were toy manufacturers. The early plastic kits were targeted to the same young age group. However, Marusan created models with a host of operating features – retractable landing gear, moving rudder, ailerons, elevators and flaps, bombs or torpedoes that dropped, opening canopies and even electrically driven propellers. Most early American models had few moving parts beyond rotating wheels or propellers.
Domestic and Overseas Growth
In 1959, Marusan sponsored a Japanese TV program that focused on promoting plastic model kits – "Riku to Umi to Sora to" which translated to "Land and Sea and Sky". Although model kit production was becoming a major source of revenue, the company continued to market toys as well. In the same year, negotiations with Revell bore fruit as Marusan became the first "Revell/Japan". The kits were issued with the original Revell box art and an added Marusan logo and Japanese writing. This arrangement continued into the early 1960s until Gunze Sangyo partnered with Revell. In order to keep pace with kit demand and keep expenses down, Marusan leased molds from other Japanese and overseas manufacturers as well as leasing out their own molds. In Japan, the subcontracting environment fostered after the war made mold swapping common. From US manufacturers, confirmed mold leases include Aurora, Adams, Comet, Elvin, ITC, Lindberg, Revell and Monogram.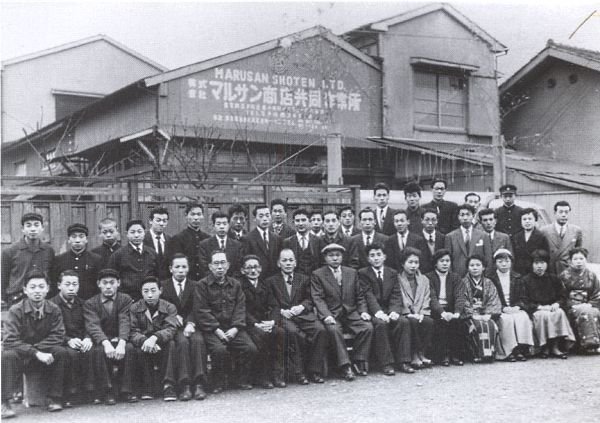 Marusan Plant and Employees circa 1960

In 1962 the increasing importance of Japan in the world toy market was reflected in the first Japan International Toy Fair. Marusan was present, of course, and the listing for the company described the business as-
1. Manufacturing and Wholesaling Metal Toys & Plastic Model Kits
2. Export & Import of the above mentioned goods
3. Manufacturing & Selling of Press Stamping Die
4. Manufacturing of Mold Base
5. Manufacturing of Plastic Mold Base
6. Manufacturing of Plastics
In addition to military subject, Marusan released figure and space kits in the 1960s. One line centered around Walt Disney figures and included Lady and the Tramp, Cinderella, Mickey Mouse, Donald Duck, Pooh Bear and Bambi. Renwal molds were used to produce the classic Visible Man and Visible Woman, and there was one issue of the Visible Man as "Ben Casey, M.D." The very rare and valuable 'Lost in Space' robot and Jupiter II was issued around 1966.
Marusan Lost in Space Jupiter II
Around this time Marusan released three very rare gift sets: The first was 'Famous Fighters' which contained ten WWII fighters in small scale (about 1/100). The second was 'World War 2 Japan and American Fighters Set' which had three 1/50 and one 1/37 scale kits. The final set was called 'Japanese Fighters Gift Set' which included three 1/50 scale (not confirmed) models. In the mid/late 1960s, several visible models were released in roughly 1/48 scale with clear fuselages. The F6F, P-47, F4D-1 and A4D-1 (all from Lindberg molds) have been confirmed.
One of my personal favorite Marusan kits is the 1/50 F-86D Sabre. The kit is very finely molded for the time and contains an incredible host of action features and accessories. The model has a removable radome to display the detailed radar, pilot boarding ladder, cockpit with opening canopy, removable tail section, removable and well detailed jet engine, ground dolly and stand for the engine and rear fuselage, operating leading edge slats and trailing edge wing flaps, moving ailerons, rudder and elevators, retracting landing gear and working gear doors, a retracting missile bay that can be loaded with missiles, extra missiles, ground missile cart and ground crew members!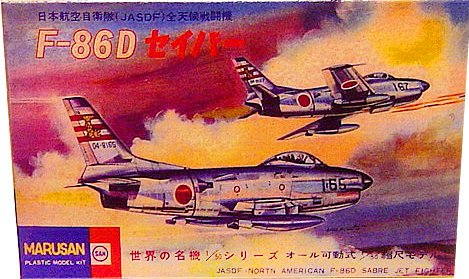 By the mid/late 1960s, Marusan had quickly built up an impressive offering of kits – over 134 civil and military aircraft, at least 24 ships, 10 or more automobiles and at least 15 figure kits. Plastic model kits sales in Japan were very strong, and Marusan kits were being sold in specialty and mail order hobby shops around the world. UPC (Universal Powermaster Corporation) entered into an agreement to market Marusan-molded kits (among others) in the USA. On the surface it appeared that the largest Japanese kit manufacturer was poised for continued growth.
Bankruptcy
In 1968 Marusan went bankrupt due to "unique circumstances". Although production of plastic kits ended, it appears that some kits with the SAN or Plamodel logos were made in the early 1970s. However, Marusan's bankruptcy led to the direct establishment of two companies and indirectly to at least two others.
In 1969, Minoru Ishida, the final president of Marusan Shoten Ltd., rebuilt the company as Marusan Co., Ltd. Retail and wholesale toy production continued but not plastic model production. Also in 1969, Koutaro Ishida, a Marusan director and nephew of Minoru, started a new company named Bullmark. Two key ex-Marusan employees assisted with the birth of Bullmark – Saburo Ishizuki and Yutaka Shibata. Bullmark produced vinyl monster character toys and plastic kits until 1977 when it closed its doors. The four 1/72 WWII aircraft kits that are confirmed were 'chrome plated '- probably vacuum metalized- and were possibly ex-Glasslite molds. Other former employees helped start Fuji in the late 1960s. Fuji created original molds as well as copying Revell and Lindberg molds. Some Marusan kits were re-released either as copies or from original molds. Production ended in the early 1970s and the assets were bought by Sunny, which was also founded with ex-Marusan employees. Sunny kits were only available in 1975 and many kits were reissued, although the Tu-22M could be an original Sunny mold.
Today the Marusan name lives on in toys. The founder of Marusan, Minour Ishida died on December 3, 1987 at the age of 72 and Aiko Ishida became president. Marusan has reissued some of the more famous tin litho cars and monsters, but most if not all manufacturing is done in China. But to plastic model kits collectors, the name of Marusan will always be associated with the first Japanese plastic model kits, fantastic box art and great action features.