By Bill Campbell and Edited by Alan Bussie Google+ profile
Bill Campbell has had a steady and successful career in commercial artwork and marketing. In modeling circles, he is known for his 250+ box illustrations (mainly for Hawk Models) and as the creator of the eccentric and popular "Weird-Ohs" model line. In one of those random events that you can never forget, Bill contacted me by mail after hearing about the website. Always a big fan of his artwork, I expressed an interest in telling his full story and he was kind enough to furnish this information- AB

Early Years
Bill Campbell was born at Bunker Hill, Mass and his family moved to Chicago three years later. By the time he was 5 years old, he knew that he wanted to be an artist. He was fascinated by modern transportation, and this was often his theme. During his free time, he sketched and photographed the powerful locomotives at Englewood Station and the early air transports at Chicago's Municipal Airport. He attended a number of south side primary schools and majored in Art and Music at Hyde Park High School. Hyde Park claimed two other personalities from that era – Mel Torme and Steve Allen. Bill was in a band with Mel Torme as the drummer, and knew Steve Allen from his literature class.

A Mountain Class locomotive pounds out of Englewood Station, Chicago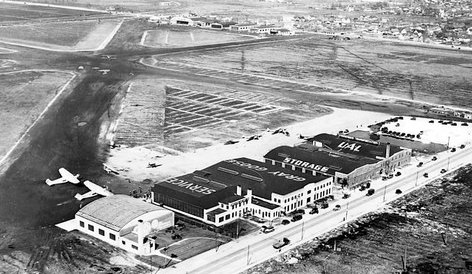 Chicago Municiple Airport, circa 1920s
At the 1934 rerun of the 1933 World's Fair in Chicago, Bill saw The Hawk Model Company booth. They had a display of solid, injection molded finished model airplanes. The models were beautiful and expensive, but they caught his imagination. Little did he know that almost three decades later, he and Hawk would make modeling history that would endure to this day.
Professional Education and Early Work
Out of high school, Bill was awarded a scholarship to the Chicago Art Institute. His exposure to commercial illustrating convinced him that it was a good way to earn a living and practice the artwork that he loved. After graduation in the late 1930s, he found work at a number of studios and agencies around Chicago, landing at the Michigan Ave. Studio doing cartoon strip illustrations. The agent, however, turned out to be an opportunist who would use eager young artists for little pay and sell their creations for much more. Bill quit when a secretary showed him a letter from King Features showing that they paid the agent $13,000 for a cartoon strip that Bill had done – and received nothing for.
Although war clouds were looming and the Great Depression continued, it didn't take him long to find new work. Blomgren Studios quickly hired the promising young artist and he created full color illustrations for International Harvester trucks, trailers, farm and orchard tractors and other clients as well. At night he attended the University of Chicago to study with Harold Bachmann, the director of the Symphonic Band. This lead to an interesting run-in with the future:
"The band met for rehearsals in the building fronting the west end of Stag Field. One day we were asked to vacate out rehearsal room. Little did we know that what was going on, but in our former band room they later created the Atomic Bomb!"
Wartime Service
Bill, like many able-bodied young men, was drafted into the US Army during World War II. The Army quickly recognized his artistic talent, and he attended basic training at Camp Fannintex as a training aids artist. His assigned unit was the 91st Division/362 Infantry Regiment which saw action in Italy. After being discharged from the Army, he returned to his wife Connie and daughter Pam in Chicago.
Postwar Commercial Artist
After his discharge, Bill had no trouble finding work and things happened very quickly. From Bill's notes –
"I was offered the job of art director at Reflector Hardware Corp. I had a staff of five, four artists and one copywriter. I spent ten years producing direct mail catalogs and audio visual presentations for them. Then I was contracted by LA Darling Co. of Coldwater, MI to direct the sales and advertising programs of four corporations involved in metal, wood, foundry and plastics. I had a staff of ten. We produced catalogs for merchandising store equipment and wood counters. The foundry had a contract to create blades for the F-84 jet fighters. The plastic division developed mannequins for presentation of various cloths, both women and male. It is worth noting that Darling Plastics was the first to design and build a plastic boat."
Hawk Model Company
After four years with Darling, he felt the time was right to create a company of his own. In the mid 1950s he struck out on his own and named his corporation "Idea Works". Initially there were no consistent accounts – it was more like a free-lance agency. However, things were about to change –
"It was at this point I was doing a complex brochure through my client at P.A. (Promotional Arts) for Prudential Insurance. The individual shepherding the job, Lee Cooper, got a "hurry up" call from the Milprint Corporation, who had offices just above Promotional Arts. Milprint did all the print work for the Dick and Phil Mates' Hawk Model Company. Lee located Paul Maxwell and asked him if he wanted the Hawk job. Paul was a natural for the work – he was head illustrator for North American Aviation during the Second World War and had just completed a series of aircraft illustrations that appeared in Esquire magazine. But Paul thought that the Hawk contract would be too time consuming, so he said "No" to the Lee and Milprint. Then Paul turned to Lee and said 'Right at this drawing table is a man that could handle the project". Turning to me, Paul said "Bill, do you have any aircraft stuff in your portfolio you can show them?". He said they needed an illustration in one week since their contract artist had a heart attack and could not complete the assignment."
"So I went out to Hawk. They gave me the information – the job was the 1/48 scale Banshee. They asked me to return within a week with the finished art ready for camera. I delivered the job on schedule. The Mates Brothers, V. Zaweski and J Andrews seemed satisfied with the job. This was the start of a long and wonderful association with the brains who ran Hawk Model Company. The ideas for kits poured from their collective minds."
Bill Campbell's first Hawk illustration – the F2H-2 Banshee
"Sometimes I had the luxury of time to do the artwork . One that stands out is the largest box I remember, that for the Matador Missile with two Air Force Techs in the right hand corner. They wanted the box to show the missile in transport mode, then elevated and then finally fired. I set up the illustration as a stepped sequence, and I feel that it came off pretty well."
"The luxury of time was not always granted. An example of the other extreme was the Gee-Bee racer in 1/48 scale. I received a call one morning at 9 a.m. and they wanted the box art completed by 4 p.m. that same day. So I was never surprised by their deadlines, or the diverse kits they could think up. Aircraft, insects, dragsters, boats, paratroopers, cable cars, ground effects machines (that worked), motorized cars- you name it, and they would give it a go!"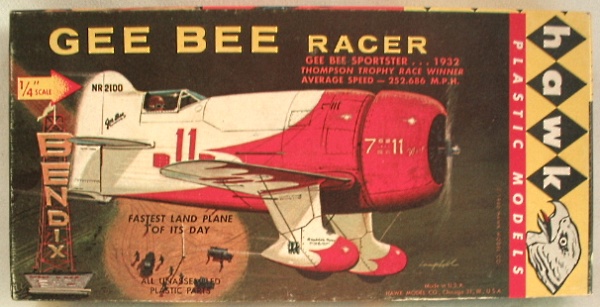 Campbell's Hawk 1/48 scale Bee Gee Racer
"The marketing director, John Andrews had an uncanny sense of timing. When Sputnik went up, the big Hobby Convention at the Sherman Hotel in downtown Chicago was a month away. I got the call that they wanted an illustration of the US Naval Observatory Satellite that the USA was trying to orbit. I completed the box art in two days without ever showing them a layout – it went directly into finished art. Milprint printed the box while Hawk created the dies for the model. Amazingly, the whole package was ready for the show's opening on Saturday. And the launch of the US Satellite was not only a success in orbit but Hawk had the only model of the basketball-sized object floating in space. The sound of the satellites 'beep' was heard on the radio throughout the hobby exhibition hall while Hawk out-marketed all the hobby companies exhibiting at the convention."
Campbell's box art of the Vanguard Satellite
The Weird-Ohs
"There was kit after kit coming out of Hawk. Around 1962/63 it struck me that recent model concepts of aircraft,cars, etc were saturated to the point of suicide. So during breaks, I sat down at my drawing board and banged outsome rough ideas of unique kits that I thought were worth developing. I knew that the sketches alone would neverget off the ground, so I created three dimensional models of these strange units. There were Dragster ('Digger'), aGerman Airman 'Baron Von Blitzhoven', a German Submarine Kommander 'DasSinkin Booten' and 'Daddy' deading down to the asphalt jungle."
"I brought my little monsters into Hawk one day. Dick and Phil said, "They are interesting Bill. We'll think about it." I had been around operations long enough to know that this is the friendly kiss of death. So I left my models with them and went back to illustrating the next box art. Somehow these models ended up on the conference room table where Hawk would host distributors. On that day they were courting a group through the workings of the plant. Upon arrival in the conference room, they saw my little monsters lined up on the table and they went nuts over them. That is how the Weird-Ohs were given the nod for production"
Bill Campbell's Weird-Ohs figure 'Endsville Eddie' and his box artwork
"I was called in and asked to develop art on "Digger", "Daddy", "Davey" and "Drag Hag". Hawk presented 5 or 6 of the figures at the Sherman Hotel Hobby Convention in 1963, and needless to say, the rest is history. The Weird-Ohs were a phenomenal sales success for Hawk and the factory work overtime to fill orders. I produced art for all the "Weird-Ohs", "Silly Surfers", "Frantics", etc. There was even Weird-Ohs record album. After completing the series, I concluded it was time to move on to a new project.
Desoto Chemical
"After my stint with Hawk, I was contacted by a large national corporation, Desoto Chemical Coatings. They had a very diverse product line including Sears Paints, detergents, furniture and interior lighting. Desoto supplied aircraft coatings for such highlights as the famous Alexander Calder paintings on the side of Braniff Jets and the ablative coatings for John Glenn's re-entry capsule. They asked me to come into the corporation as corporate Creative Director and Director of Advance Marketing. I held this position until 1974 when I retired. They still wanted my thinking, so they drew up a legal contract that bound me somewhat to them for about four years. During that time I could do what I loved most – pursue fine art and develop creative ideas."
"There are infinite details within this broad brush presentation of my creative life. Like all people I have had my bombs! You place them in the far away nooks of your mind and move on – life is what it is. When you think you might have gone just a millimeter further in your quest for a little more of the pathway to perfection, that little nook in your brain says "Don't take your snail-like advance to strongly, for this too shall pass." The passage engraved on the ring of Solomon brings us up short every time."
Bill Campbell
Gallery
Bill was kind enough to send me some of his original art and prints from other original paintings.  Below are photos of them, and more of his box art below.   Please click on any thumbnail to enlarge.
Bill developed a proposed series of models called Aer-O-Toons in 1993/94.  The original art for the Bee-Gee is shown at the left, and the P-51 and DR-1 dioramas to the right.  Bill was a superb scratch builder and often built his own prototypes for Hawk and other manufactures.  Note the detail on the P-51 in the close up.
Original Artwork from Bill's "FlyBoys" Series from about 1993.  27 of the "Flyboys" were painted by Bill and proposed as a model series.  Some of them were developed into pilot models but they never went into productions.
In the mid 1960s, Bill proposed a 1/48 scale Whirlwind to Dick Mates.  He painted this artwork and built the prototype model.  Hawk, however, considered the sales potential of the kit to be low and it never entered production.  The prototype model still exists as  Bill gave it to a fellow model collector.
Lenny Leadfoot was a proposed kit from 1962, but Hawk considered it too complex to put into production 
Dick Mates was a big train fan and the early force behind Hawk's train kits.  Bill loved the locomotives also and noticed they were missing from the plastic kit line.  So he did this painting to entice Dick into making a kit of the Pennsy M1-A.  The project was 'deep-sixed' as Bill put it, because Hawk did not think the kit would sell well. 
A large print of an SNJ and the Great Lakes Training Aircraft Carrier Wolverine.  The right-hand picture shows Bill's notes from the back of the print.
The original artwork for Hawk's Monte Carlo and 1/48 scale P-51
Two going-away gifts for Director Lofti of the San Francisco Opera Company, circa 2008-09.  One is a portrait and the other a large painting showing the various operas that Lofti mounted during his tenure.  Bill put a note on it that said,  "Alan-Just to prove I can do other art besides aircraft!"
Classic Hawk Boxart by Bill Campbell
(click on any to enlarge)