By Alan Bussie    Google+ profile

I wish to thank artist Mike Boss for locating Gayle Yarnall, who is one of Ray Gaedke's daughters.  Gayle, I thank you and Bernice for the main biography body.  Without you this article would not exist.  Rae, thank you for locating and scanning all the photographs.  To all three daughters – Rae, Peggy and Gayle – thank you for your timeless memories of your father.

Please visit Gayle's blog at gayleconnected.com 

Introduction 

Plastic model kits were off to a shaky start in the post-war United States.  The first US kits came out in 1946, and the hobby shops did not know what to do with these colorful little gems.  As a result, they put them on the 'high shelf' or another secondary location.  Current model builders, the skilled craftsman who were used to the wooden 'solid' or stick and tissue kits, had no interest at all and were critical of such prefabrication.  The handful of manufactures feared this was a product with no audience.

 

The target audience was present but had simply not been identified.  Once plastic kits were marketed in a few mainstream stores, plastic models began to sell very quickly to younger children and adults who were tired or scared off by time-and-talent consuming wooden kits.  But success created a new problem.   Kits in mainstream stores had to compete with highly established toys, games and other products.  To attract the buyer's attention, they needed 'visual shelf appeal,' which translated to eye-popping box artwork.  Raymond Gaedke was one of the pioneers of this 'modern' model box artwork.
Ray's incredible Winnie Mae (late 1950s)

 

It is difficult to say who did the first popular series of full color box art in the USA.  The current candidates are Ray Gaedke or Jim Cox from Aurora.  

Jim's first full color works for Aurora appeared in 1953.  Ray did full color work for O-Lin well before 1955, but the exact date is not known.  It is possible that his early works were before or at the same time as Jim Cox.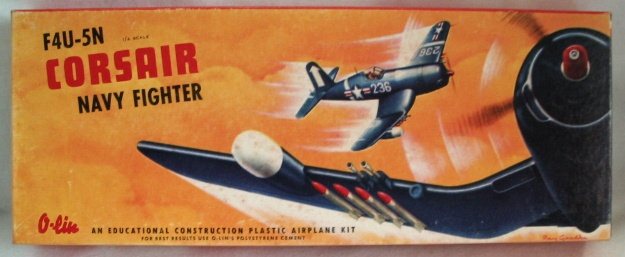 One of Ray's first model box tops, the O-Lin F4U Corsair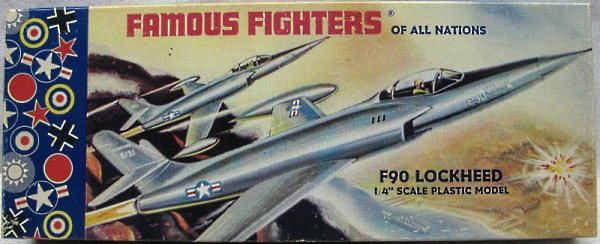 Jim Cox's #33-89 Aurora Brooklyn F-90, about 1953

 

Early Years

Raymond Ernest Martin Gaedke was born on February 8, 1918 in Chicago.  His parents, Ernest and Frances Gaedke, owned and operated a small neighborhood grocery store.  Raymond was their only son and they worked hard to make the best possible life for him.  Unfortunately, the store failed (most likely due to the Great Depression), so Ernest worked for the Chicago Transit System as a switchman.

 

When he was not attending school, Ray worked to help his parents.  During his rare free time, he showed a passion for drawing.  This did not leave much time for sports or other children.  His daughters do not remember hearing stories about childhood friends. 

 

Ray attended Chicago Lake View High School were he committed himself to excellence in studies and other school activities.  He discovered his love of music playing the French horn in the school band.  He quickly became a drum major and Captain, member of the Officer's Club, Orchestra, "Red and White" (yearbook) editor, art staff and committee member and Honor Society member.  At Lake View he meant his future wife, Bernice, although it was much later when he noticed her.

Lake View and Ray's yearbook photo (click either to enlarge)

 

Because of his numerous talents and excellent academic performance, he was offered a scholarship at the Art Institute of Chicago.  Unfortunately, his parents thought he should begin work and make a living.  He quickly combined his love of art with a job and drew pictures on postcards for about 25 cents an hour.  After a short while he was apprenticed to work for a large printing company.

Photo from Union League magazine of the judges looking at the poster that won Ray the scholarship (click to enlarge)
Even during this work he remained very actively involved in music and began baton twirling.  Ray had real passion for the precision of this art.  He joined a local twirling club where he got to know Bernice.  She was a twirler also.  They first began to fall in love at a twirling club Christmas party and began dating.
Ray in the late 1930s/early 1940s (click either photo to enlarge)
Bernice Weissmiller became the love of Ray's life.  She was the second and youngest child of Anna and Max Weissmiller.  Bernice had spent her entire life in Chicago.  In addition to attending the same high school, she grew up not far from Ray's home.
Ray's hard work and dedication paid off.  Even before World War II he was considered the finest or one of the finest twirlers in the country.  He won numerous national awards and his exhibitions made newspaper headlines.  Furthermore, he was in national demand as a twirling judge or as the chairman of the judging committee. After the war he received authorship or illustration credit in numerous twirling and marching band publications.
Publicity photos of Ray and Bee from 1940  (click to enlarge)

 

Before Ray and Bernice were married, Bernice was working at the Ludwig Company as a secretary.  Ludwig produced batons and drums, and Bernice even dated Ludwig's sons a few times before obviously deciding Ray was the better catch!  But at this point a small event took place that would have big consequences decades later:  Ludwig put the baton part of the business up for sale so they could concentrate on drums.   Ray, George Walbridge and Merl Smith purchased the baton part, renamed it Starline and incorporated in Indiana.  Starline was not a big company but the new owners had great plans for the future.  (Please note that Bernice recalls the purchase happening before she and Ray were married; there is other public information about the purchase that is in error.)

Bernice – known as Bee – and Ray were married on June 8, 1940.  Shortly afterwards he started a new job at an art studio and the couple moved into their first apartment.  Ray remained heavily involved in twirling and this passion would stay with him in one form or another for the rest of his life.  His love for painting and twirling resulted in a life-long struggle to combine two arts.

 

Here is one news paper clipping describing their twirling careers at this time.  From the Racine Journal Times, Saturday, June 29, 1940:

 

"Fourth of July Parade 1940:  One of the highlights of the Goodwill 4th of July Parade and Celebration will be the appearance of Miss Bernice Weissmiller and Ray Gaedke of Chicago, stellar exhibition baton and flag twirling duo.  Gaedke is the national VFW and Illinois state baton twirling champion.  Miss Weissmiller also is a contest winner.  The two will do solo and team routines, featuring baton twirling up to 100 feet in the air.  According to Fred W. Miler, supervisor of field events for the Chicagoland Music Festival, Gaedke is considered the outstanding exhibition baton twirler of America."

 

Bernice was kind enough to point out that she and Ray were not a 'twirling duo' at the time the newspaper stated.  They performed in the same celebrations but were in different corps.
Publicity photo of Bernice in the early 1940s (click to enlarge)

 

US Army 

The Gaedke's were able to move into a house before Ray entered the army in June of 1943.  The army noticed his talents and he was sent to Camp Claiborne, Louisiana for Engineering Corps training.  His first tour was in Europe, where his group helped to rebuild towns after they had been liberated.  Gayle comments that-

 

"They sure picked the right man for the job.  If there was ever a believer of everything in its place, it was my father.  You should have seen his sock drawer.  It was a work of art."

On parade in the Army and in uniform (click to enlarge)

 

When the war in Europe was over, Ray was stationed in the Philippines and Japan doing the same type of work.  Ray was honorably discharged from the Army in 1946 and returned to Chicago.

During military service, he documented his experiences through artwork.  As he painted, he sent them to Bee so she could be a part of his day-to-day army work.

Selections of Ray's wartime drawings from Gayle's book including a self-portrait (click any to enlarge)

 

Again from Gayle:

 

"The wartime cartoons are very different from what people have come to expect from Ray's commercial art.  My dad was a multifaceted individual and a perfectionist. He took things seriously and put his heart and soul into everything he tackled.  Ray believed everything we do in life was important and deserved our best efforts.  He felt we all had the capacity to change the world around us by example.  He was a self-taught man who had the true appreciation of the arts and sciences and all our universes' mysteries.  These drawings reflect his fondness for life and all it had to offer"

Entrepreneur 

After the US Army, Ray was ready to work for himself in the commercial art field.  The timing was perfect.  Post-war America was still in the golden age of commercial advertising.  If you wanted attractive color ads for your product, you had no choice other than to commission artwork.  Any large popular magazine or newspaper featured hundreds of hand-produced illustrations in each issue.    Quality illustrators were in high demand and paid well.
Advertising Associates letterhead logo (click to enlarge)
The new business, Ray Gaedke Advertising Associates, operated out of the house initially.  His first job was creating decals. Gayle recalls that some of the designs, such as cherries, were used to later decorate their kitchen.

Book dust jacket by Ray Gaedke (click to enlarge)
Ray was very successful and the business quickly outgrew the apartment.  He opened one studio then a second one.  These proved too small, but the third one, located across from the Art Institute in Chicago, served his requirements perfectly.    He did do a small amount of work from the home but most was done at the studio.
Ray (center and second from right) and his associates (click either to enlarge)
In 1947 he and Bernice moved into a home at 6173 North McClellan in Chicago.  It was (and still is) a beautiful home and his daughters have very fond memories of it.  Ray did many improvements and design work on the house.
The house on North McClellan (click any to enlarge)
In the early 1950s a mutual friend, Harry Thornton, told Ray about the job opportunity at O-Lin Models.  Harry's sister knew Paul W. Lindberg, who was the 'Lin' in O-Lin models.   Very soon after the introduction, Ray did his first model box illustration for O-Lin.
Ray and Harry Thornton (click to enlarge)
When O-Lin became Lindberg, Paul Lindberg retained Ray as the primary illustrator.  Ray was very prolific and did almost all of the artwork for the huge Lindberg Line of models – aircraft, ships, cars and much more.  Old Lindberg catalogs are snapshots of Ray's commercial artwork as well.
Ray at the office (click either photo to enlarge)
Lindberg's approach to box artwork was conventional.  Ray would be given the built model or photos of the model.  From that he would draw sketches as proposals.  Lindberg would choose one or more proposals and Ray would create the finished artwork.  In some rare cases, more than one sketch was approved which resulted in two pieces of finish artwork for the same subject.  One example is the F-4D Skyray
Two original artworks for the 1/48 scale Lindberg Skyray 
In most cases only one painting was produced, which is perfectly understandable; such paintings demanded (and received) a premium price in the 1950s.  As a cost savings measure, Lindberg had many of Ray's originals 'touched up' in the mid to late 1960s.  Often the background would be painted a different color or simply white.  Sometimes the national insignia and/or markings on the aircraft were changed.
Ray's artwork modified for the "White Background" release.  Notice white border around the subject and white marks. 
Ray had a staff of artists and many other customers as well.  Among them were the Town and Country Restaurant chain, book and magazine publishers and an agency that sold "trolley card" space on buses and trains.  At that time, transportation advertising was big business.  Everyone from the National Biscuit Company and the "Big Three" car manufactures down to your neighborhood pharmacy and dry cleaner had artwork created and displayed in this fashion.  The roof or wall area above the seats in buses, trams and local trains were lined with 21 x 11 inch "U" shaped channels or straight channels that accepted these colorful cardboard signs.  Today these are affectionately known as a "Trolley Signs" and are prized by antique advertising collectors.
Modern streetcar with old fashioned trolley sign advertisements (click to enlarge) 

Vintage Trolley Signs, artists unknown (click any to enlarge)

 

Starline

In 1964 Ray decided on a career change.  He discontinued the Advertising Associates and moved to Florida.  Starline moved from Syracuse, Indiana to Oakland Park, Florida.   Ray moved with it and became a very active partner.  The children left the house at 6173 North McClellan 'kicking and screaming' as Gayle recalls.  But with this move, Ray was able to combine his love of art and twirling.  Lindberg 'touched up' some of Ray's original paintings but ultimately turned to Tom Morgan and John Steel for new box artwork.

 

The 1960s and 1970s were very big years for Starline.  With Ray on board, they became very busy with new products, manual and book publishing, national twirling clinics, the formation of the ITTI (International Twirling Teachers Institute) and international and associated national teachers clinics held all over the globe.

Retirement

Ray retired from his active roll in Starline and illustrating in 1983 due to illness.  The doctors performed two heart bypass surgeries but Ray needed another.   The doctors did not recommend it due to his condition and said he only had a couple years left to live.  Ray was such a positive thinker that he stretched this to ten years.  He remained as active as possible, and even took Bee and his daughters on a trip to Paris and another to England.  Ray and Bernice moved to Arizona in 1991 and Ray passed away shortly after that.

Memories From His Family

Clearly Ray was a brilliant illustrator, world-class baton twirler and a gifted businessman.  He believed in good, hard work and raised his family that way.  But there was much more to him.   He loved his family and he had a passion for life.  He was a true artist and he applied his numerous talents in a great many directions.  He had a workshop which he always enjoyed greatly.   He was an avid gardener with a natural green thumb.  He and Bernice enjoyed traveling and often combined this with their many hobbies.

 

I asked Ray's daughters if they had anything they would like to add to this biography, and I received more than I could have hoped for.   Their comments below give valuable insight to what their father was like-

From Rae-

My full name is Rae Gaedke, Jr.  Before I was born, dad said that if it was a boy or a girl, it would be "Ray".  I was the third girl, and they named me Rae.  I was going to be junior, and junior is what he called me.  Later I put Jr. on the end of my name legally as a legacy to good old dad.

As for other hobbies; my parents were rock hounds in a serious way for years and years. I can remember a trip we took in the station wagon.  We got rocks at the petrified forest and then went down to Mexico. On the way home we kept getting flat tires because we were loaded down with rocks.  I am still making jewelry with those rocks!   My dad did amazing lapidary work- he had tumblers, slicers, grinders- everything to make raw material into fine jewelry.  He made some beautiful pieces and Mom made costume jewelry. When my parents did something, they did it in a big way.

In Florida he became consumed with orchids.  We had a rock wall in our patio with countless orchids. It wasn't unusual for him to go to Mexico to find what he wanted. He had always had a green thumb, and he would learn everything there was to know about each plant he grew. 

Ray's Orchids in Lighthouse Point, FL (click either photo to enlarge)

 

My dad was practical when it came to money.  But when he felt that he was financially secure, he got into cars.  He had a Mercedes two-seat sports car for awhile and used it to go back and forth from Edgebrook to the Loop everyday.  I am sure he got it at a low price and fixed it up himself.   There was not a back seat for us kids, but I remember him putting in a little seat for me.  I was so small that I fit, but it was like being in a hole back there!

In Lighthouse Point (Florida) he had a 1963 Corvette Stingray, the one with a split rear window.  Later he had a high performance Jensen sports car that had a special engine.  It ended up being hard to find mechanics who could work on it.  He felt that it was costing him too much money for repairs and so he went back to regular types of cars.

"The Tin Foil Period"

Dad created intricate designs from cardboard, string, pipe cleaners or any handy items.  He literally used anything.   These designs were then glued to the object d'arte, which could be plates, a book shelf, dining room table or anything that could be decorated.  Then he would take foil, wad it up completely, then straighten it out again.  This gave it a crinkle effect.   Now use the crinkled foil to cover the objects decorated with the 3D designs, pressing the glued foil down closely around the shapes until the foil takes the exact shape of the design under it.  Then he antiqued it with paint to highlights all the shapes and crinkles in the foil.  It looks fantastic!  Since writing to you about "the foil period" I have been experimenting with it myself. I did a small box, and then  made a large number of little pieces for jewelry.  It has been really fun, and it does look awesome!  I can see why dad enjoyed it so much.
Several examples of the foil art are pictured here.  On the far left is a custom reel-to-reel tape storage case, salt and pepper shakers and even the shelf holding the plate collection (click any to enlarge)
We always had pets. There was a time at Edgebrook when our family had a pet skunk (Pierre), monkey (Coco), Great Dane (Pharoh), dachshunds (Trinka and Herman), and a parakeet.  Of course my dad built the most incredible open, round cage for Coco our monkey.  The care took up a big portion of the very large kitchen, but Coco ran around loose most of the time regardless.  Mom actually hatched his favorite thing to eat in the basement, where she had a little bug farm. The parakeet had an open door policy too and flew around the house.  It liked to ride on the Great Dane's back!  It didn't try to get outside, which is a good thing since Pharoh could turn the knob on the door and open it when he wanted to go out. We had a good life and I realize how very lucky we were.
Family pets (click any to enlarge)
The Gaedke and Rathke families were very close friends. – Ken Rathke was Lindberg's Sales Manager.  When my mom got polio and all the hospitals were full, it was Ken's wife Fran who got mom in somewhere.
From left to right:  Fran Rathke, Ken Rathke, Bee and Ray dancing with one of his daughters during a company party in the basement at 6173 North McClellan.  Second photo (L-R) Bee and Fran (click either to enlarge)
We only have seven original paintings of dad's, and all of them came from Ken.  He saved them when the Lindberg Line was sold. My parents had just moved to Arizona and Ken showed up with the paintings as a surprise. My dad passed away before he got to see them hung on the walls.

Delores and Paul W. Lindberg at an Advertising Associates Party (click to enlarge)
Later, when my mom was hanging the paintings, one was not quite level and didn't correct it.  As she walked from the room, she  plainly heard Ray yell her name.  She never believed in things like spirits until that moment.  She also knew to get out the level because nothing less than perfect would do!
From Peggy-
Dad always had a hobby going.  He had a big workroom in both our homes in Chicago and Edgebrook.  This will give you an idea of how he went about a project.
He built a Rumpus Room in our basement in Chicago.  The bar was made from an old tree he chopped down on the property.  We had a sink behind it with three faucets- hot, cold and seltzer water. The bar top was old tile he had removed from the living room fire place.  We all still have a tile!
Family home during a Chicago Winter and a family friend (Elmer) painting the trim (click either to enlarge)
The men's bar stools were Japanese Saddles he had brought home after World War II.  He had shot glasses and a decanter behind the bar that were all made from different size WWII ammunition shells.  I still have some of those also!  One of the walls was all sliding wooden doors.  Behind one door was a film projector that pulled out, and of course there was a pull-down movie screen in the ceiling.  Other sliding doors hid his very extensive record collection and Hi-Fi Stereo, as well as one of those 1950s televisions with the very small, round screen.
He had two cars before the fancy ones that started his foreign car craze.  He had one of the first Volkswagens and a Volvo.  The Volkswagen would not start when it was cold.
From Gayle
I am glad Rae brought up the gardening thing.  We all got his green thumb although we tried to ignore it because it reminded all of us of doing chores.  That is another chapter yet to be written!
 As for the tin foil period, this has become a family joke.  When he and mom decided to do something they really did it big.  He started covering things with a mix of items and then covering it all with tin foil and painting it.  He did a beautiful table with every kind of cross.  You had to look at it a while to really see the crosses.  I have salt and pepper shakers that he made and they are pretty.  However, when you had a room full of this, it went a little overboard!
Another example of going overboard was that one day they decided to collect plates.  They traveled a lot and this would be a good way to bring home something from wherever they visited.  In less than a year they had enough plates to cover an entire wall.  Since this was the tin foil period- yes, you guessed it- Dad made shelves covered with his new art form.
Part of the plate collection (click to enlarge)
Do you remember that Dan Fogelberg song, "The Leader of the Band?"  That is my song for my dad.  Once I gave him the album and ask him he had to figure out why I gave it to him.  My dad did not cry, but my mom said he knew what song was for him and that he cried.
 Raymond Ernest Martin Gaedke, 1918-1991
A Gallery of Original Artwork and Box Tops by Ray Gaedke
Click any photo to enlarge
First issue Motorized B-17, original artwork and kit, late 1950s
Lindberg motorized race car kit, original artwork @ late 1950s
Lindberg #778M USS Rudderow, original art and box @ late 1950s
Lindberg #570 Draken (Jet Dragon) original art and box, late 1950s
Lindberg's small scale F7U Cutlass original art, late 1950s
Lindberg kit #543, the prototype F-88 Voodoo, original art and kit box, late 1950s
Lindberg #516 FJ-2 Fury original artwork and box, late 1950s
Lindberg all-black Hawker Hunter original artwork, early 1960s 
Lindberg #561 Russian Jet (formerly Mig-19) original art and box, late 1950s
Lindberg Hawk P-6E original artwork and close-up, mid 1950s
P-40 and close-up, mid 1950s
Lindberg small scale P-51, mid to late 1950s
One of several original box art paintings for the large scale PT Boat, early 1960s.   Please note that Lindberg recently used this box art on a reissue also.
The SE-5 is a perfect example of how Lindberg modified Ray's original artwork.  The center photo is the original issue kit from the late 1950s.  The second photo is the 1965 issue showing the modified artwork.  The third photo is the 1969 issue and the modified original artwork is on the far left, including a close up
Ray's dramatic blue background Skyray from around 1960.  This artwork was used for many reissues and is much more common than the green background (below) 
The original art for the rare green background Skyray and close-up
Original art and box for the Convair 880 TWA, late 1950s 
The original art and box for the second issue XF-81, circa 1960.  Note the modification made to the original artwork for the white background release 
Ray's artwork for a kit that was not released
A small sampling of other box artwork by Ray Gaedke for Lindberg (click any to enlarge)
Click here for Lindberg kits for sale