By Alan Bussie Google+ profile
While researching Red Ball Ltd., I came across a unique article that had been deleted from Wikipedia. Fearing that one day the history of this famous kit line would be lost, I began research on this pioneer model manufacturer. Fortunately, the information could be verified through catalogs, model railroading magazines, and Red Ball's previous owner, MRRW.  The best news came when I was contacted by Robert Newton and Fred E. Newton, grandson and son of M. Dale Newton.  They verified the accuracy of this article and added many facts to it.  To them and all others, I thank you for keeping Red Ball's history and name alive. AB
Early Red Ball Logo
As of 2010, Red Ball Ltd. has been producing craftsman model railroading kits for over 71 years. Marvel Dale Newton, known better to modelers as M. Dale Newton, founded Red Ball during the 1930s model railroading expansion. Red Ball quickly found favor with modelers thanks to high scale detail, realism and an extensive product line.
Mr. Newton was born on September 28, 1898 in Kansas. By the 1930s, he was a print shop entrepreneur in Los Angeles, California. Coincidentally, this was the time of dramatic growth in the the young scale model railroading hobby. (If you have an interest in this modeling revolution, please see the other article on this website.) Established hobby companies like Megow were successfully issuing rolling stock kits with printed cardstock sides. This type of kit was ideal for those who wanted a high quality constant scale layout but did not have the time, inclination or skills to scratch build it. It is not known if Mr. Newton was a model builder, but this probably seemed like a logical expansion to his existing business. He chose the growing HO scale and launched Red Ball Ltd. in 1939. Early catalogs list his address as 2303 Hyde Park Blvd, LA. The company was the "M. Dale Newton Company" and it appears that "Red Ball HO Trains" was the brand name of the product. The 64 page 1941 Red Ball catalog confirms production of numerous train kits but also custom decals and mailing envelopes, letterhead stationary and calling cards for model builders. Also displayed are electric motors, trackside accessories, rails, spikes, roadbed, switches, operating signals, a very large variety of 'super detail' parts and modeling tools. The diversity of the model and supply line after three short years in the business is astounding.
Sample pages from a rare Los Angeles-era Red Ball Catalog (click photos to enlarge)
Based on the timing, Newton did not invent HO scale but he was certainly in the group of pioneering manufacturers. He knew a good thing and how to improve on it when he saw it. The early kits were rolling stock with printed cardboard sides, wood frames and metal or plastic parts and cast metal trucks. From the 1941 catalog-
"All Red Ball kits come complete except for paint and cement and include cast metal roof ribs, brake platform, doors, ends, roof end platforms, icing hatches and brake cylinders as required. Also accurately detailed three-plank roof walks and scribed floors. (The doors in all box car kits have guides at the top and bottom to fit our No. FTB15 door track, so that the ultra realist may have real operating doors on his box cars.)
All external detail on car sides is complete. All rivets, braces and bolts are embossed into the side. Nothing to build up or paste on after the sides are on."
Although the detail castings were among the best in the industry, Red Ball was famous for the car sides. It is easy to dismiss a 'cardboard' part as being simplistic and inaccurate. Nothing could be further from the truth. M. Dale Newton's expertise in the printing field must have driven his passion for quality. Since minute detail was required, the sides were made with high quality lightweight bristol board. Wooden ribs, braces and all detail were 'scribed" by impression with a rule die on the letterpress. Heavy blank backing boards were supplied to give the decorated sides strength. Furthermore, all decorated sides were coated with 'Durafilm' transparent varnish. If a greasy fingerprints, dirt or even wet paint got on your masterpiece, it could be removed with Ivory Soap and water. Time has proven the quality of this varnish as I have yet to see 'yellowed' car sides.
Reefer Kit R4 – The very colorful Wilson's Milk Billboard Reefer
Los Angeles-era Water Tower Kit
All pre-war Red Ball kits are rare. However, early kits were not just of high quality but innovative also. Many models included plastic castings for details and even complete car sides. Ventilated stock cars, for example, would be difficult to produce accurately in bristol. The answer was to construct the sides of diecast cellulose acetate. In other brands these casting will warp badly with age. It is impressive that the Red Ball castings are still straight and could be used 70 years later.
Early Stock Car kit with injection molded plastic sides (click photos to enlarge)
Almost all Red Ball fans have seen the "Medford, OR" address on the sides of the kit boxes. The exact date of the move is unknown, but a "Model Craftsman" magazine from July 1941 reported that he was still in Los Angeles. Some time during World War Two Mr. Newton moved the manufacturing to Medford, OR. At one point there was a devastating fire at the Medford plant, but repairs were made and production re-established.  The fire was due to a poorly insulated flue on a wood stove. The fires heat was intense enough to warp castings on the presses.  It is unknown if Red Ball engaged in defense production during the war or if they were allowed to continue making kits. Regardless, they were ready to turn out HO kits when the war ended.
One of many well-known box end designs used in the Medford Era
This was a boom time for HO and O scale kits. Builders were demanding more and better kits with improved details. The Red Ball line expanded quickly. Newton even advertised in a 1954 "Model Railroader" that if you sent him a clear photos and data about any older box car or reefer with eye-catching lettering or decoration, he would produce a kit of it!
Meford-era Swift's Fresh Meat Billboard Reefer Kit (click to enlarge)

There were now many HO kits to choose from, but Red Ball remained highly popular and continued to set high standards. The detail and truck castings were made in brass dies and used typesetter's metal. They were considered high quality at the time. John Anderson, (founder of Cal Scale) milled hundreds of the crisply detailed metal molds for Red Ball during the post war years.  Bill Pirie, of Albany, Oregon drew car sides for Red Ball through the 1950s and also worked for Southern Pacific.  Bill was a model railroader himself, so most of his designs were genuine prototypes but he invented others such as 'Elwood's Root Beer.'
Three different pre-1955 Red Ball kits (click photo to enlarge)
In 1955 Mr. Newton sold the business to Howell Day from Dunellen, New Jersey.  His spirit of detail and innovation did not end.  Printing was not his only mastery – after Red Ball he converted a Plymouth Valiant into an electric vehicle.   In his late sixties and seventies he personally mapped every drivable road in Jackson County Oregon, resulting in the most accurate county map possible – andthe Valiant was used often for these trips.
After Mr. Day took over Red Ball, he briefly moved the business to Elkhart, Indiana, but returned to Medford very shortly.  Mr. Day was a avid model railroader and an early model rail shop proprietor in Dunellen/Piscataway. He opened the famous"Model Railroad Shop" in 1933, and also advertised in the first issue of "Model Railroader" in 1954. He manufactured O scale kits under the "H Owen" brand and had introduced an HO PRR K4 kit prior to World War Two. Mr. Day continued production of the Red Ball printed side car kits from 1955-75. Day continued the expansion of the Red Ball line to include dozens of unique prototype kits, well over 200 billboard refrigerator cars and over a hundred wood-style boxcars. Mr. Day was an early importer of Japanese brass models that were also marketed under the Red Ball brand. It is worth noting that in 1956 he sold the very first HO styrene car kits, Kurtz Kraft's PS1 boxcars and steel reefers, under the Red Ball brand for a period of time. By this time, the huge boom in plastic model aircraft was underway – it was clear that plastic was the wave of the future. 'Ready to Run' trains sets and cars were just around the corner, and the age of the craftsman railroad kit was ending. Although many manufacturers faded away, Red Ball continued.
Red Ball imported brass Fairbanks-Morse A and B Units
Colorful box end from the Howell Day era
In 1975 Mr. Day retired and the parts and kit line was acquired by Wabash Valley Lines, Inc. which is operated by Merle Rice's Model Railroad Warehouse (MRRW). Mr. Rice has managed Red Ball production and kit/tooling design for Wabash Valley since that time. Wabash Valley, a well known name to craftsman and collectors, produced the car sides on scribed wood by silk screening and pad printing.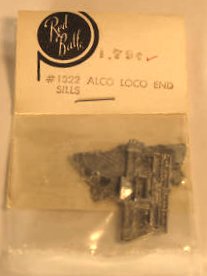 Red Ball also sold their detail parts separately for the scratch builder
Over the last 70 years, M. Dale Newton, Howell Day and Merle Rice continually added kits to the line. The result is that the Red Ball line has had well over a thousand different prototype cars issued – not just different paint schemes. In keeping with scale fidelity, Red Ball issued different sides, trucks and detail parts each time they were required, unlike some manufacturers that simply used a template. Few Red Ball printed side cars (boxcars & reefers) were identical in size, doors or ends. In addition, Red Ball has featured about 300 unique prototypes, each requiring their own crisply die cast metal parts. This type of detail has made these kits desirable to builders and collectors to this day. One unique feature of collecting Red Ball is that some collectors have entire kits, but others simply collect the car sides!
Misc Car Sides
Mr. Rice added dozens of additional prototype specific kits and engineered the use of most Red Ball molds to produce injection molded styrene parts and kits. In this new "Age of Plastic", MRRW differentiated the original wood and metal Red Ball line by using the name "Cannonball Car Shop" for the styrene kits. In 2010 Red Ball was seventy-one years old, and is one of a handful of remaining pioneer railroad scale kit makers. It has been particularly notable for introducing a wide variety of detailed unique prototype cars and carsides to the hobby. As Red Ball enters its seventy -first year of kitmaking, all means of production have been transferred to Rick Steele of LaBelle Woodworking Company. LaBelle is a premiere manufacturer of "Craftsman" kits and is well equipped to carry on the legacy.
Mr. Newton passed away on December 7, 1989, in Medford, OR and Howell Day died December 19, 2005, at his summer home in Florida.