By Michael Boss and Mary Ridgway
Editors Note: Michael Boss is an illustrator who was good friends with Jack Leynnwood from 1971 till Jack's passing in 1999. This article was written by Michael and Mary in 1995. Thank you both for a superb inside look at one of the great illustrators -Alan Bussie
When you were a kid, do you remember going to the hobby shop to spend your hard-earned lawn mowing money on that plastic airplane model kit that you had your eyes on for weeks? Or perhaps you spent your time hinting to family members that if they wanted to get you a present, this particular model was just the thing? Maybe you tried to bribe (or blackmail) siblings into making a contribution toward the ultimate cool kit? Most of us had that kind of obsession for plastic model kits at some point in our youth. There was one exceptionally gifted artist whose job it was to fan the flames of our insatiable desire. His name was Jack Leynnwood, and he was responsible for many of the high-energy illustrations that made us lust for kit after kit. During his long career, he painted hundreds of model kits box wraps from the 1950s through the 1980s.
Revell Nieuport 28 C-1. This illustration was for a middle 1960s release of the 1/72 scale kit in the markings of Lt. Douglas Campbell of the Eddie Rickenbacker's "Hat in the Ring" squadron of WWI. The original was rendered in gouache.
Jack's artwork is an understated part of American culture. Most people have been exposed to his artwork at some point in their lives and never knew it. Leynnwood did kit illustrations of everything from military aircraft to rigged ships, Rat Finks, Flash Gordon, space ships and Ed "Big Daddy" Roth custom cars. The veteran illustrator has a personal background as captivating as his artwork.
Jack was born in Los Angeles, California. His mother was a Chinese antique dealer and his father was a Santa Fe and Southern Pacific railroad engineer. Jack was fortunate to grow up in a doubly-spectacular period in American culture: The Golden Era of Aviation and the Hollywood Silver Screen. Jack was interested in music, acting and all things mechanical. As a youngster in the 1930s, he pursued his areas of interest with more vigor and persistence than the average child.
The Leynnwood family lived in the then-country community of Culver City. This was practically next door to the MGM and Hal Roach movie studios. Because of this proximity, Jack periodically found himself hired as an extra in the 'Our Gang' comedy serials. Though he was only paid $18 a day, he remembers "That was a lot of money then!" When he was only about 8 or 10 years old, he toured the Midwest and the Great Plains as a solo saxophone player.
Along with his interest in music and acting, the early aviation industry fascinated Leynnwood. Like most kids, he built balsa wood airplane kits, but also drew aircraft. Jack frequently spent time watching aircraft take off and land at the Culver City Municipal Airport nearby. He also remembers hanging out by the airport to watch parts of the filming of the 1931 movie 'Helldivers', which stared the legendary actors Wallace Berry and Clark Gable.
Young Jack had hopes of becoming an airline pilot or a professional musician. The early 1930s proved financially hard for most everyone, but Jack was resourceful in the pursuit of his goals. By working odd jobs and washing airplanes, the precocious fourteen year old was able to earn enough money to obtain two dollar-an-hour flying lessons. He quickly completed his 8-10 hours of training in an American Eaglet (a high wing parasol) and soled in an Aeronca C-2. "The owner of the plane, Pete Leaman, wouldn't trust me in anything more than that" according to Jack. "It was the happiest day of my life!"
American Eaglet Light Aircraft
Near the beginning of World War II, he was a big band saxophone player for Ben Sullivan of west coast fame. Jack soon joined the United States Army Air Corps and attended basic training at Buckley Field in Denver, Colorado. He was assigned to Rapid City, South Dakota and eventually served at Luke Field near Phoenix, Arizona. At Luke Field, he began flying North American AT-6s, Curtiss P-40s and his favorite machine, the Lockheed P-38. When the war ended, Jack acquired his commercial pilot license. Although he never flew commercially, he has always flown for his own enjoyment.
After World War II, he was working part-time, and took advantage of the G.I. Bill. He began studying illustration at the Art Center College of Design in Pasadena, California. Upon graduation, Leynnwood accepted his first full-time professional job doing work for the aircraft manufacture known as the Northrop Corporation. His job was to provide illustrations of their planes and products such as the F-89, T-38 and Snark Missiles. The illustrations were used for prints, advertising and brochures.
Examples of Leynnwood pre-box art illustrations (click any photo to enlarge)
Using casein, photo-retouch opaques and egg tempera, his early illustrative designs emphasized featured aircraft supported by ground equipment. The brushwork was loose and abstracted and tended to use a grayed and subdued palette. In his early work, Leynnwood showed a preference for strong angular compositional relationships between the primary and secondary subjects. While at Northrop, he won several awards from the Technical Illustrator's Management Association. The group was established by technical service departments of the various aircraft companies to showcase their products and talent.
JL's incredible Outlaw box artwork for Revell (courtesy Craig Clements)

In the late 1950s, Revell Incorporated, a growing manufacture of plastic hobby kits, approached Leynnwood concerning using his illustrations as box wraps. Jack's first job was a 1/140 scale Lockheed C-130A Hercules. This was to be the start of a long and very lucrative association. As more work was made available to him, Leynnwood was able to leave Northrop and freelance full-time. Revell was ready to change its look, so the artwork of Scott Eidson and Richard Kishady gave way to Leynnwood and John Steel. This time period, from about 1959 and into the 1960s is considered the second 'Golden Age' of Revell and model box artwork in general. Leynnwood's artistic style continued to develop, as did more sophisticated marketing techniques for selling model kits.
Circa-1960 Leynnwood Revell Illustrations (click on any photo to enlarge)
Although Jack painted important illustrations that have the quality and look of fine art, being an illustrator is different from being a fine artist. The client plays an important role in the process of developing and image – even if the client has a differing view from the illustrator. Illustrators sometimes have constraints imposed upon them, and Leynnwood's kit illustrations were not exception. He was mostly free to develop background setting for subjects as he saw fit, such as the F-89 in the Arctic, or the Russian T-34 tank in Moscow. But Revell specifically instructed Jack not to paint contemporary battle scenes. This rule did not apply to events depicted in World Wars I and II. Also, there was a time when World War II German aircraft, rockets, tanks and other war machine models were forbidden to display the Nazi swastika on the box art or the model itself if the kit was be marketed in Europe. On many occasions a manufacture was not historically correct in the markings or camouflage of a model plane design; but Leynnwood's illustrations were required to match the product provided.
Revell North American P-51B Mustang. In a typical and powerful box wrap painting, Don Gentile's "Shangri-La" is roaring in all but head-on. It is from an original painting of the 1/32 scale kit (click photo to enlarge)
The source materials used for the art frequently varied. On occasion, Leynnwood was given a larger scale mock-up of the subject; on another he may be given a completed model with paint and decals in place. Conflicting opinions sometimes created uncomfortable situations for illustrators. Leynnwood's advice in this area was "…with any client the question is how far you can go as an artist and the degree of tightness depends on the client."
Jack's 1970s Boeing 747 illustration is one of his first acrylic paintings (please click the photo to enlarge). He went through a period of using a lot of grayed out color, stating that he was just doing something different! As for acrylic, Jack said, "I didn't like the stuff, but I did some of my best work in it."
In the 1960s, the plastic kit market broadened in scope and increased in quantity. Kit building was now the #1 boy's hobby in America. During his tenure with Revell, Jack painted over 650 model kit illustrations. His illustrative abilities were applied to ships, tanks, figures, cars and some of the first series of space ship and rocket kits introduced. His illustrations appeared box tops, catalogs, side panels and in advertising. Jack's work was in demand and he was producing high-quality box art illustration at the rate of roughly one to five illustrations per week.
Jack's dramatic B-70 for Aurora
Leynnwood's Phantom and Witch Doctor (click photo to enlarge)
During this busy time, He began working at his Alma Mater, the Art Center College. Two days of his busy work week were spent teaching illustration. He continued to give instruction there for 25 years.
In the 1960s he painted what is considered one of the finest examples of model box art. Revell wanted to model the B-17 in 1/72 and chose the legendary 'Memphis Belle', a Boeing B-17F that was the first to complete 25 missions. The painting became important for purely subjective reasons. It was truly an image of brute strength and power of heroic proportions. Leynnwood achieved this by cropping the wings to emphasize the nose, engines, tail, bomb bay doors, ball turret and lastly, the nose art.

Leynnwood's inspired B-17F painting of the Memphis Bell (please click to enlarge)
During an actual bombing run, the B-17 was flown by the bombardier in a horizontal attitude. By changing the attitude to a downward sweep in the painting, Leynnwood was able to increase the visual tension exponentially. Abstract brush strokes of sky and flack bursts became infinite space where heavy metal machines forcefully impose themselves for an "in-your-face" bombing assault. The loosely treated gray background and handling of the format edges pull the entire painting together for a very striking composition. The image is purposely distorted to create drama and clarify the important details of the kit.
In describing how he approached the Memphis Belle illustration, Leynnwood explained that he used a 1/72 scale test shot (a trial injection molding prior to mass production) of the completed model airplane and a camera lucida to facilitate the preliminary drawings. He would then crop certain areas of the plane that, according to Jack, "weren't worth looking at," and get the image as large as possible by twisting the fuselage, engines and tail to fill the four sides of the format. The original artwork was rendered in casein.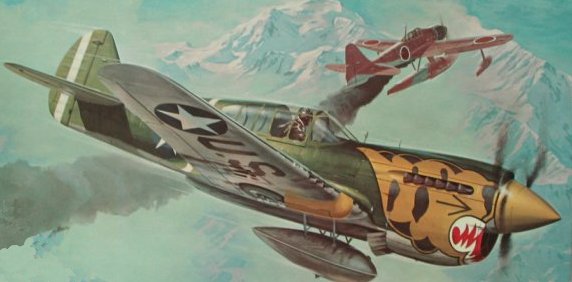 CURTISS P-40E WARHAWK. An Aleutian Tiger flown by Lt. Col. John S. Chennault was the subject of this reissued 1/32 scale kit. The painting, rendered in acrylic, had a somewhat different palette. The background was painted in unique pale pinks and blue-greens.

Toward the end of the 1960s, Jack began to explore some new stylistic ideas that resulted in some of his finest work. Revell introduced a series of 1/32 scale World War II fighters and Jack was given the opportunity to do the box art. Even though Jack's preferred the mediums of casein, gouache and oil, this series was largely painted in acrylics. Leynnwood claims, "I never really like the medium, but I did some of my best work with them." Jack's ability to use cropping, lighting, overlaps and composition to create dramatic images of power, impact and visibility were already highly developed, but now he pushed his skills a bit further. By painting daring compositions and continually experimenting with designs and mediums, he was able to achieve a new standard of quality in aviation illustration.

Revell 1/32 F4U-1 Corsair – Lt. Ira Kepford's Corsair is shown in a typical beach invasion support mission. The painting was completed in acrylic and was one of Leynnwood's favorite illustrations (click photo to enlarge)

In the 1970s, the "truth in advertising" rules found their way into the plastic model industry. Although an illustration better captured the power and romance of aviation and had a potentially stronger marketing impact, manufactures were choosing to show photographs of the finished models on the reissues of kits. Illustration was used only on the newly tooled models were photography was unavailable. Jack did more illustration during this time for kits released in Europe than in America.
1970s/80s UH-1D done by Leynnwood for Hasegawa
As the kit illustration market wavered, Jack continued doing other illustrations to make a living. Work was readily available composing movie poster roughs and comprehensives. Jack did poster design work for movies such as 'Midway', 'Jaws II', 'Airport '77', 'Gray Lady Down' and many others.
Jack had opportunities to include aviation images in his movie posters as well. One of the most dramatic poster designs he did was for a re-release of 'Hell's Angels'. It is a montage consisting of British SE-5s "busting" a German dirigible, overlapping searchlights and portraits of actor Ben Lyon and actress Jean Harlow.
Leynnwood's illustration for the Hell's Angels movie poster (please click the photo to enlarge)
A few years ago, the Society of Illustrators in Los Angeles, gave him a farewell bash. After years of living in the Los Angeles area, Jack and his wife Joanne "retired" in Sedona, Arizona. After the move, Jack stayed busy painting, running, burning up the golf course, being a grandfather, and of course his old love…flying the AT-6 Texan among other aircraft.
Leynnwood's' career spanned fifty years and his list of clients is extensive. It includes familiar names such as Revell, Aurora, Mini-Craft, Glencoe Models, Aero Publishers, Plane and Pilot Magazine, Northrop, United Technologies, Schaefer Aircraft, the Garrett Corporation, Hughes Aircraft, Rutan Aircraft, the movie industry and many more. His art captures the spirit and romance of aviation. He was able to both maintain his integrity as and artist and also show airplanes and other subjects in all their glory. Model packaging was always targeted towards kids, and he tried to do what kits liked- zooming of aircraft, guns firing, bombs exploding and lots of action.
It has not changed. When you were a kid, do you remember going to the hobby shop to finally buy that plastic airplane model kit you had your eyes on for weeks? Now you can remember the spectacular illustration work of Jack Leynnwood.
Special thanks to Ed Sexton and Bill Lastovich at Revell-Monogram.
More Jack Leynnwood Paintings – Courtesy of Craig Clements and Mike Boss (click any to enlarge)