by Ken Friend
Nothing is more discouraging than watching decals yellow with time after they have been applied to one of your favorite models. Well, maybe there is something more discouraging; spending your valuable allowance on an older model kit only to find the decals are almost useless from discoloration. The following article might help. Discolored decals can be used to generate new decals that stand a much better chance of maintaining their true colors and clarity.
The example below shows the original decal sheet from an AMT XB-70 kit released in 1995. The clear film between colored segments is discolored. Obviously, this will show dramatically on the all white XB-70. To correct this problem, I scan every decal sheet when I open a kit. I then remove the discoloration and reprint the decal sheet. It is a relatively simple process, but there are pitfalls to avoid. Let's start with the scanning process.
A closer look at the scanned decal shows "stair-steps" in the circular and angled lines. This is the result of setting the resolution of the scan at a low (75 dots per inch) resolution.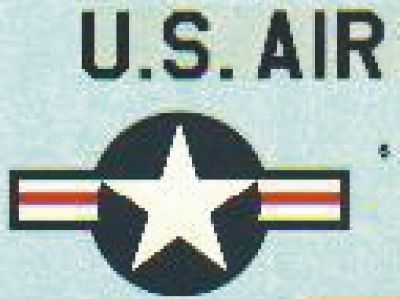 For the best results use a minimum of 600 dpi. Since most of the newer scanners and printers are capable of even higher resolutions, use the highest capability of your scanner and printer. The outcome just gets better. The decal section below shows the difference between an image scanned at 75 dpi and 600 dpi. Notice how the stair-steps have virtually disappeared.
The surface of a decal sheet can be slippery where the coating is applied to protect the decals. Sheet-fed scanners will sometimes slip while scanning a decal sheet. Flat bed scanners do not have this problem. This scanned image shows exaggerated sheet-fed slip. Look closely at your scanned image to make sure it hasn't slipped during the scan.
Once the decal sheet has been scanned into a bitmap file, it can be brought up in any of a number of bitmap editing software packages. In the example below, I have used Corel PhotoPaint to apply a "mask" over the area I want to change; in this case, the blue background. I then use either a "fill" tool or a brush stroke to change the background to white.
There may still be a small amount of cleanup to do inside the letters and numbers as shown below.
Once the background color is removed, the discoloration is also gone.
Remove the mask and Voila! New decals.
Decal printing paper is readily available in clear and white from vendors like Bare Metal Foil and Bel Decals. Remember, printers do not print white! Any decals with white will need to be printed on the white paper. You will have to do some trimming, but the insignias come out very well. The other solid colors can be printed on clear sheets. Once your new decals have been printed, apply a thin, but ample coat of Microscale Decal Film or Krylon Crystal Clear Acrylic in your choice of either gloss or satin. Make sure your clear is compatible with your decal sheet manufacturer.
Always apply decals on a glossy surface. It is best to first apply gloss to the decal locations or the entire model, then apply the decals, and then clear coat with flat or satin when they are dry. I know it is difficult to spray a model with a glossy clear coat when it is supposed to be flat when finished, but decals will "silver" where they don't adhere to the surface. Decals created with the process I have described are no different. Unfortunately, you usually find out about this after you have sealed your decals with an overcoat.
Your new decals will maintain their color and brilliance virtually forever. I have never seen any of the decals I have made using this technique turn yellow, even after sitting on a shelf for many years. I usually do not use the decals that have come with older kits for this reason. Newer kits from the better vendors seem to have minimized or eliminated this problem. When in doubt – SCAN!