By Alan Bussie Google+ profile
Many thanks to Carlton Shanks, John Burns and all the KCCers for their extensive research and documentation
Pyro is unique in plastic models because the subjects for kits were not selected by popularity.  Pyro was a very successful company without model kits.  Since the production of molds was subsidized by other profit centers, Pyro did not feel the extreme financial pressure that Revell and Monogram did.  The later had to produce kits that would sell immediately and in quantity so they could make loan payments and recoup their tooling expenses.
We do not know how Pyro chose their kits; perhaps Bill even had input into the process!  All we really know is that subjects were chosen based on historical significance and not sales potential.  That is why Pyro kit subjects are so unique and in so many cases are the only kit very made (or even envisioned) of such a subject.
 It appears that Pyro used popular reference books and sometimes existing wooden kits in the design process.  This was not an unusual industry practice.  As Pyro started making more detailed kits for more advanced modelers, they began to study the actual subjects when available – especially for automobile kits.  This yielded some excellent models for that time.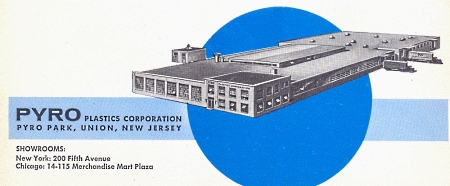 Pyro's boxes started out as one-piece flip top styles with generic artwork in two or three colors for the WWII navy ships and small scale sailing ships.  Some specific artwork was made for the Sumner.  By about 1954 the original small four sailing ships were reissued in 'modern' hardboxes with full color artwork.  Pyro quickly saw the advantage of this (or realized they could not compete without it), and virtually all kits from the mid-1950s forward were in two piece boxes will full color artwork.  Much of the Pyro artwork is superb, especially the sailing ships.
Please note that an attempt was made to list all molds, but not every reissue or kit name change.  
Please help make this guide as complete as possible. If you have photos of kits not shown, please email me and credit will be given. 
Ships
The first Pyro assembly kits may have been ships.  The exact date that Pyro made their first kit is not known for sure, but we do know it was probably 1952 at the earliest and 1953 at the very latest.
1953 magazine advertisement for Pyro's early ships (click to enlarge)
These four ships may been Pyro's first plastic assembly kits.  The kit were nicely molded in "box scale" and had a very low piece count.  Given Pyro's toy past, it was not surprising that they had wheels underneath and a certain 'toy' feel to them.  These kits had three digit part numbers with price extensions and included
146 USS 

Missouri

, 147 USS Chicago, 148 USS Shangri-La and 149 USS Sumner.
Chicago, Shangri-la and Sumner Kits.  Note generic box art for the cruiser and carrier  (click any thunbnail to enlarge) 
Small Sailing Ships
Pyro quickly cut more molds.  The small sailing ships were likely the second kits issued.  They date from the early to mid 1950s.  Again, there was a low piece count, full hull, box-scale but a slightly less toy-like appearance.  The kits had plastic hull, deck and details, wooden masts, vacuform sails and were 6 to 7 inches long.  At least two box art styles are known.  The four included
 

168 Mayflower, 169 Barbary Pirate, 170 Constitution and 171 

Santa Maria

.
First issue Barbary Pirate and 2nd issue Mayflower II – both with wooden masts (click to enlarge)
In 1963 this line was expanded and marketed as 50 Cent Models, "Historic Sailing Ships" and later "75 Cent Models".  The kit numbers now started with a "C".  They were issued, however, with 49, 50, 60 and 75 cent price extensions and perhaps others.  The four older kits were upgraded to all plastic parts.  Scales were not listed but the kit lengths were all 6 to 7 inches long.  The final lineup was:
 

The original four -Mayflower, Barbary Pirate Ship, USS Constitution, 

Santa Maria
Third box art issue of the original four small kits.  All parts are now plastic (click any to enlarge)
New kits for 1963 were Golden Hind, Bon Homme Richard and Brig of War American Privateer
First box art issue of the 1963 (50 cent) small ship kits. The photo at the right is the 75 cent variation of the Golden Hind.  (click any to enlarge)
By 1967 Pyro had added HMS Victory, Flying Cloud, Nina, Pinta, La Reale French  Galley, Venetian Carrack, Ark Royal, Roman Merchant Ship and Spanish Galleon.
Small sailing ships in 60 cent and 75 cent box varieties (click any to enlarge)
Round the World Boats
This late 1950s series featured some very unique craft.  All kits are full hull, scales are not listed and they measure 9 to 10 inches long.  They were reissued at least once under different names.  Although nice kits with excellent box art, they were not big sellers. They had vanished before the 1963 catalog was issued and are desirable collector or builder kits today.  Included are Persian Gulf Trader (also Dhow from Zanzibar), Burmese River Pirate (also Burmese Paddy Boat) and Fijian Outrigger (also Polynesian Outrigger Canoe)
The original issue unique larger-scale civil ship models with two later issue name and box art variations (click any to enlarge)
Built-up Outrigger courtesy of Jeff Warner (click any to enlarge)
 Larger Ships
Pyro's line of much more detailed larger-scale ships was launched in the late 1950s.  All were full hull and very nicely done for their time.  Scales were not listed and assembled size ranged from 14 to 21.5 inches long.
·         By 1963 the line included Civil War Blockade Runner, Fishing Schooner Gertrude L.  Thebaud, The Independence War Schooner, Revenue Cutter Roger B. Taney, American Cup Racer, Tuna Clipper Gulf Star, Japanese Fishing Boat (ex-Gulf Star), Diesel Tug Boat Despatch No.9, North Atlantic Fishing Trawler,  American President Liner (SS President Wilson or Cleveland), Racing Yawl (Bermuda Yawl), Chesapeake Bay Oyster Boat Skipjack, USS Olympia, USS Maine, Monitor and Merrimac (9 ¾ and 11 ¼ inches long, issued separately and together), the magnificent 21.5 inch long Mississippi steam boats Robert E. Lee and Natchez and new for 1963, Russian Missile Tracking 'Fishing Trawler Spy Ship' (ex-North Atlantic Trawler).
Pyro large scale ship kits – first issues and later box variations (click any to enlarge) 
·         By 1967 this had grown to include the Nantucket Lightship, Portuguese Man-O-War "Santa Catarina Do Monte Sinai", French Man-O-War "Saint Louis", British Man-O-War Sovereign Of The Seas and Dutch Man-O-War Gouda.
Pyro large scale ship kits introduced between '63 and '67 (click any to enlarge)
·         After 1967 there were new kits and reissues of older molds.  They include USS Alliance, Joseph Conrad, USS Missouri (1/350, ex-Otaki molds), USS Enterprise and IJN Yamato (1/400 and 1/350, again not Pyro molds), Harriet Lane, HMS Ark Royal, N.S. Savannah and Tuna Clipper (ex-Gulf Star).
Some of the last Pyro-molded large scale ships (click to enlarge)
·         For the larger scale models, Pyro sold an "Electric Motor Unit For Ship Models" so you could operate the ships in water.
Pyro hobby shop poster and Motor Unit (click to enlarge) 
Intermediate Size Ships
These kit were between the small and large scale models in size and detail.  They did not appear in the 1963 catalog but there were 12 by 1967.  These were also called "Ships of the World", "1.00 Dollar Models" and later "$1.25 Models".  These kits are a vast improvement in detail from the 50 Centers and lost the toy-like appearance.  All are full hull and approximately 10 to 12 inches long.  Scales were not listed.  Sails were included and the kits were often molded in a wood color and ivory/white. 
·         In 1967 the line consisted of Cutty Sark, HMS Bounty, British Bomb Ketch, Charles W. Morgan, USS  Constellation, Chinese War Junk, "Elisie" Gloucester Fisherman, British Henri Grace A Dieu, Dutch Staten Jacht, Swedish Gotta Le Jon and British Revenge.
 A variety of Pyro intermediate size ship kits (click to enlarge) 
1/1200 Scale Ships
In the 1960s Pyro acquired or leased some of the Eagle molds for 1/1200 scale ships and issued them as the "Table Top Navy".  It was thought that the mold exchange with Eagle took place in the late 1960s; however, Pyro lists the ex-Eagle kits in the 1963 catalog.  These kits were nicely detailed for their size and could be built full hull or waterline.  They were commonly used for wargames.   Some mold origins are unknown.  The complete line includes
·         HMS Victorious, HMS Warspite, HMS King George, HMS Prince of Whales, Bismarck, Prinz Eugen, HMS Norfolk, HMS Dorsetchire, USS Hornet, USS North  Caroline, IJN Yamato, IJN Shokaku, USS Essex, USS Washington, USS Lexington, USS South Dakota, IJN Musashi, IJN Zuikaku, USS Yorktown and USS Massachusetts.
 First and second issue Pyro 1/1200 ships.  The full color box art issues are the earliest, dating back as far as 1963 (click any to enlarge)
Gift Sets
Ship gift sets included 173 Antique Ships Gift Set (Golden Hind, Half Moon, Richard and Brig-O-War), 175 Table Top Navy Gift Set (USS Hornet, North Carolina, IJN Yamato, Shokaku, USS Essex and Washington), 230 Round the World Boat Set (Bermuda Yawl, Burmese Paddy Boat and Fijian Outrigger) and Civil War Set (Monitor, Merrimac and Civil War Pistol).
Three of the four Pyro ship gift sets (click any to enlarge)
Automobiles and Cycles
Beyond ships, Pyro's largest line was civil transportation.  Again, we are fortunate that Pyro chose subjects based on historical significance and foresight.  These came in 1/32, 1/24 and 1/16 scale.
 1/32 Kits
Kits here fall into two rough categories.  The first group are very basic and without engine detail; some early wheels are solid discs when they should have spokes.  Tires are molded with the wheels and there are no chrome parts.  Regardless, many are popular today because they are unique subjects or are built as slot cars.  Details quickly got better and engines, spoke wheels, chromed parts, rubber tires and more were included.  Later kits, especially the "Vintage Brass Cars" used the actual car for research.  These were excellent kits in their day and feature detailed engines, full interiors and parts molded in colored plastic, clear, brass plate and with real rubber tires.
Kits issued under the Pyro label include
·         1930 Ford Pickup/Woody Wagon, 1934 Ford Victoria/Coupe, 1940 Ford Coupe/Convertible, 1932 Chevrolet Cabriolet/Pickup, 1952 Chevy Station Wagon/Fas-Back 2 Door Sedan, Yankee Doodle/Rebel Dragster, 1939 Cord CV, 1932 Ford B Roadster, 1936 Ford Roadster, 1949 Ford Tudor, 1937 Chevrolet Coupe, 1957 Chevrolet Hardtop, 1932 Ford Coupe, 1936  Ford Coupe, 1949 Ford Ragtop, 1937 Chevrolet Convertible, 1957 Chevrolet Convertible, Jersey Bounce Dragster, 1933 Bugatti 59, 1929 Bentley, Rebel Show Roadster, The Texan Street Rod, 1931 Alfa Romeo, 1931 Aston Martin, 1937 Bugatti Atalante, 1929 Bentley Speed Six, 1934 Plymouth Four Door, 1932 Plymouth Four Door, 1934 Plymouth Convertible, 1932 Plymouth Roadster, Aston Martin Tourer, Alfa Romeo Tourer, 1932 Pierce Arrow, 1932 Lincoln Phaeton, 1932 Pierce Arrow Convertible, 1932 Lincoln Convertible, 1930 Packard Roadster, 1931 Cadillac Phaeton, 1930 Packard Coupe, 1931 Cadillac Coupe, 1933 Rolls Royce Sedanca, 1929 Mercedes Benz SSK, 1933 Rolls Royce Coupe, 1928 Mercedes Benz SS Tourer, 1932 Chrysler, 1936 Duesenberg SSJ Roadster, 1932 Chrysler Phaeton and 1936 Duesenberg  Town Car.  The following are the "Vintage Brass Cars" series – 1915 Ford Model T, 1914 Mercer, 1911 Stevens Duryea Roadster and Convertible, 1906 Renault Towne Car and Runabout, 1909 Lozier Briarcliff, 1909 Rolls Royce Silver Ghost, 1911 Packard, 1909 Cadillac, 1915 Ford Pie Wagon and 1911 Mercer.  
1/32 scale Car kits (click any thumbnail to enlarge)
1/32 scale "Vintage Brass Car" series kits (click any thumbnail to enlarge)
·         1908 Lanchester, 1910 Buick, 1912 Hispano-Suiza and 1911 Stanley Steamer were released under license from Pyro with Life-Like boxes
1/24 Scale
Pyro made only a handful of 1/24 scale kit in the late 1950s and very early 1960s.  Pyro saw that AMT, Revell, MPC and others dominated this scale and wisely saw no reason to compete.  Some very early Auburn issues had a peach colored plastic driver included.  Pyro also made prints of the box art for Auburn, Cord and Lincoln available without the Pyro emblem and text so you could frame them.  The 1/24 Pyro kits include
1959 Volkswagen 1200 with Sunroof (motorized and static), 1948 Lincoln Continental Convertible, 1935 Auburn Roadster, 1937 Cord Convertible, 1959 Volkswagen Beach Buggy and Triumph 6T GT.
1/24 scale Pyro cars with box art variations (click on any to enlarge)
Very early Pyro 1/24 Auburn, Cord and Lincoln kits (1950s)
1/16 Scale
Surprisingly, the 2nd largest Pyro vehicle line is in big 1/16 size. Detail was stepped up significantly as you would expect.  This line is unique for the show rods, motorcycles, tricycles and scooters.  It includes
Green Serpent Show Rod, Sno-Skeeter Show Rod, Laramie Stage Ghost Show Rod, 1966 BSA, 1966 Yamaha, BSA Racing Cycle, Yamaha Racer, Lambretta Motorscooter, Vespa Scooter, Harley Davidson Electraglide, Harley Sho-Go, Harley Police Cycle, "Der Baron" Harley Custom Cycle, "Ghost Rider" Harley Custom Cycle, "Lil' Corporal" Harley  Sho  Cycle, "The General" Lambretta Scooter, "The Diplomat"  Vespa Scooter, "The Gladiator" 3 Wheel Show Bike, "Surfs Up" Bike With Trailer, "The Curler" Super Surfer Tricycle, T-N-T Street Rod, Gee-T Custom Show Car and Cobra T Dragster.
1/16 scale kits and add for Skeeter (click on any to enlarge)
Design-A-Car
No list of Pyro cars would be complete without the famous "Design-A-Car", a kit very similar to the "Design-A-Plane" below.  Pyro claimed that over 25,000 different cars could be designed and built.  The "Design-A-Matic" computer,  "validated by Remington Rand Univac Division of Sperry-Rand" made it all possible.  Enough parts were included to have two assembled cars at one time.
Original magazine advertisement and Design-A-Car Kit (click on any to enlarge)
Firearms
Pyro had a unique line of full–size pistol and rifle kits which are very popular among collectors today.  Some molds were acquired from Revell; this may have been the inspiration for later kits.  Some of these kits were issued by Eaglewall (ex-Eagle) in England and later by Life-Like.  The kits in this series are
Moorish Rifle, Bavarian Rifle, Kentucky  Rifle, Western Saddle Rifle, Silesian Wheelock, Belgian Shotgun, Western .44 Pistol, Buccaneer  Pistol, Privateer Pistol, Yorktown Pistol,  Bunker Hill Pistol, Civil War Navy .36 Pistol, Derringer/Pepperbox (Revell), French Wheelock, Italian Miquelet (Revell), Moorish Miquelet, Blunderbus (Revell), Two Dueling Pistols (Revell), Dutch Flintlock and Peacemaker .45 (Revell).
Pyro 1/1 (full sizes) rifle, gun kits and wall racks showing at least three box styles (click on any to enlarge)
Aircraft
Pyro's aircraft kits may be the smallest part of the line – which is no surprise when you consider that Aurora, Hawk, Monogram, Lindberg, Revell and other manufacturers covered aircraft very well. Pyro cut a few molds for aircraft kits in the late 1950s for three large scale famous air racers.  Later they purchased the Inpact aircraft molds including "Those Magnificent Men in their Flying Machines" series.  The date quoted for the mold exchange is 1970.
Big-scale racers were issued with or without motors and include Gee Bee, Hall/Springfield Bulldog and Pesco Special.  By 1963 theses were no longer in the catalog.
Roughly 1/32 scale racers (click on any to enlarge)
Ex-Inpact kits:  Bleriot XI, Martin-Handasyde, Deperdussin, Bristol Boxkite, Avro Biplane, Avro Triplane, Gloster Gladiator, Hawker Fury, Bristol  Bulldog and Fairey Flycatcher.
The complete Pyro reissue of the Inpact 1/48 aircraft line (click on any to enlarge)
Design-A-Plane
Perhaps the most popular Pyro aircraft kit is the Design-A-Plane.  Issued in the late 1950s/early 1960s, the kit could theoretically produce over 4,000 different aircraft, including existing designs such as the F-86, Mig-15, Gloster Javelin and Mystere II.  Pyro included a "Design-A-Matic" computer that showed young designers how to build the vast number of aircraft possible. Removable stickers were included.
The famous Pyro Design-A-Plane and an original magazine advertisement (click on any to enlarge)
Figure kits
Pyro's figure kit line started in the 1950s and was short-lived.  The 1963 catalog lists only the birds and dinosaurs, with humans long discontinued.  By 1967 only the dinosaurs are listed. 
The human figures are 1/8 scale like Aurora and are nicely molded.  The line included  an Indian Warrior, Indian Chief, Medicine Man, Rawhide Cowpuncher, Restless Gun Deputy Sheriff, Wyatt Earp and the Indian Gift Set.  Some were issued in 'Paint By Number' like the birds.  The non-Indian kits were reissued under other names in an effort to boost sales.
Pyro 1/8 scale figures (click on any to enlarge)
The birds included the Bald Eagle, Ringed Neck Pheasant, Mallard Duck and Birds Gift Set.  There appears to have been two issues – one the "Mark Trail" and the other "Paint By Number" which included a paint pallet, brush and paint by number instruction sheet.
The Dinosaur "Science Series" had most kits issued at least twice, some under different names.  The first issues are the most collectible with great box artwork and colorful plastic.  Later issues feature more realistic box art and colors.  Kits included the  Stegosaurus, Tyrannosaurus Rex, Brontosaurus, Triceratops, Protocertatops,, Ankylosaurus, Dimetrodon,, Corythosaurus, Gorgosaurus, a Prehistoric Monster Gift Set and a 1/8 Cro-Magnon Man.
Pyro Dinosaurs showing early and later box variations (click on any to enlarge)
The Human Anatomy series included the Human Eye, Human Heart, Human Ear, Human Nose and Mouth, Human Lung, Human Brain and Man Anatomy
Factory Displays
Like most other manufacturers, Pyro would build and paint sample kits in the factory, mount them on colorful cardboard displays and ship them to hobby shops.  These displays, especially when found in complete, excellent condition are highly prized today.
Fijian Outrigger Factory Display – built at Pyro and sent to hobby shops for promotion (click to enlarge)
 Miscellaneous
Not content with the unique kits above, Pyro made 336 Eiffel Tower, 362  Design-A-House and 362 Design-A-House Master.  The Design-A-House functioned like the Design-A-Plane.  Numerous house designs could be created with the kit.  The main kit contains scale construction material for a large variety of homes including split levels and two story homes and a fully illustrated Home Builders Book.  The Master Set includes extra parts with extra features – over 200 prefabricated parts and enough parts to build two houses at one time.  Snap together parts include wall studding, stone textured outside walls, kitchen and bathroom fixtures and more.
Eiffel Tower and Design-A-House magazine advertisement and kit (click any to enlarge)
Pyro kit development ended when the company was sold to Life-Like in 1972.  Please read about the history of Pyro and it's founder, also on this website.